Heeeellllloooooo! Well, we moved out site so we wanted to welcome you to our new home. I hope you like it. Hopefully EVERYONE will be able to see all of the pictures and all of the videos from now on, but if you have some problems please let us know.
So life in the last 2 weeks has been pretty swell. Two weekends ago my boss gave Hannah and I tickets to the West Virginia football game, and that was dang fun. I will always by a True Aggie, but they have way better football out here. It was amazing to see a packed stadium and a winning team. It was pretty cold that day, so we got ourselves all bunddled up. It's fun to see Molly in her big pink coat. When she falls over she can't get up. What was most amazing to me was that everyone was drunk by the beginning of the game, and it was a 12:00 game. There is t-shirt I see around here that says "We tailgate harder then other schools party." I am beginning to think it is true. But it was ok, cause nobody bothered us, and we loved being there.
Last week my work sent me to Penn State in State College, PA to do recruitng for our program. They let me take Hannah and Molly so they went and help me set up and then while I worked they went swimming and this time Molly loved the water, so I was pretty bumbed I missed out on that. That night we went out to dinner and just had a really sweet time. The drive there and back was really pretty. The leaves were perfect.
The next day we drove to Maryland (Hannah's sisters house) cause Lynda and Lauritz came to see us. That was really fun to have everyone together. The next day they followed us back to our house. We stopped along the way in Cumberland, Md in this really sweet town that is really old. They have brick lined streets and about 8 different caslte looking churches on one street. We then found their cemetary that some of the coolest head stones I had ever seen, some mausoleums, and headstones dating back to the cival war and before. The best part was the pumkin custard I ate there for breakfast.
It was dang fun to have Hannah's parents with us. We showed them all of the "morgantown sites" which everyone knows are incredible (wink wink) and went out to dinner, and did a lot of visiting. I think the best part was just being able to show people we know where we live, and where we go, and what our life is like. So thank you for taking the time to come and see us, we hope it was worth it.
Anyway, I have definately talke your ear off enough. If there is anyone still reading Have a happy and safe Halloween. We will be escoring the cutest Bumble Bee in all of Morgantown around on Halloween night. So definatley look forward to those pictures. Make sure and look at the pictures below. There should be some good ones.
Love, Jake, Hannah, and Molly Jane
First, here are some pictures of us at the football game. As you can see it was pretty chilly. Molly even fell asleep on my lap and that in and of itself was a miracle.
Molly actually looks a little scared in this picture...but I can't tell why.
Even with the 4th best football team in the country the marching band is considered "the pride of West Virginia." We just thought you all needed to see this. Go Mountees!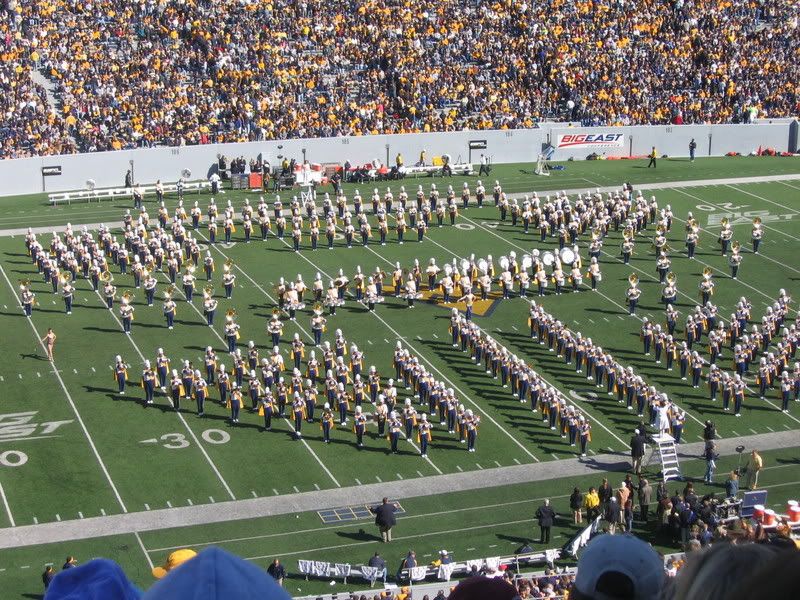 Have we ever told you we think we have the most beautiful daughter in the world. Well, we do!
This is us out enjoying a brisk Sunday evening in the fall leaves. They sure are purdy this time of year.