The "Week of the Oylers" is a Success.
We can barely believe the day actually came that our little baby turned 1. It was such a fun day though. We loved every second of spoiling her, and treating her like the princess she is. We started off the day by making her homemade pancakes and opening up a present from Aunt Stacy and Socks from Grandma. Dad had to go to school
but mom just kept the party going. I did sluff work in order to spend the rest of the day with Molly. The news told us that it was so hot that no children or old people should be outside, so we took Molly to the mall play place where she enjoyed playing with the kids.
We took Molly to Target and bought her a Little People's Play House and she has loved that a lot. We got really excited when we heard the UPS truck pull up and drop off Grandma O's present just in time for the party. We made Molly her favorite dinner Pizza. Next was presents. Molly loved all of her presents. Grandma's showered her with bookds of stuffed animals, books, a leap frog and lullabys. They have kept her entertained since. If there was one thing I wish everyone could have been here for it would be to see Molly open up our present to her, her new chair. She was sitting in it before we could even get the blanket off of it. For the rest of the night she had to be sitting on her chair. She would get off of it only to go pick up one of her presents but would then turn right around to climb pack in it. It has Hannah and I feeling dizzy.
We ended the night with Hannah's adorable ladybug cake she made (see pictures below). We gave Molly the tail end and let her at it. Just a lot of poking at first, but after about 10 minutes there was cake everywhere. She loved being able to play with her food. I think we are still cleaing up the crums. It was such a fun day. I'm almost positive we liked it more then her.
My birthday was still full of school and work, but Hannah brought me lunch that day just so we could hang out together. We went to the mall that afternoon so I could get me some new dress clothes for my birthday. Hannah made me delicous Hamburgers and corn on the cob for dinner and some cheesecake. It was a sweet day.
For Hannah's B-day we went to Maryland to see her sister Cassie cause her sister Holly was in town from Provo. We went swimming and to IKEA and had peach pie for dessert. It was de-lic-ious. Probably not the most exciting day for my sweetheart, but it was fun. Molly actually stayed in the water without crying so that was exciting.
I'm sorry it took us so long to post, and I realize this is long and boring, but thanks for reading and enjoy the pictures.
You can see how excited Molly is about her socks from grandma...really she was!!!
Molly riding the Lady bug at the mall.
This is the Little People's Doll House. DOes't she look so old in this picture?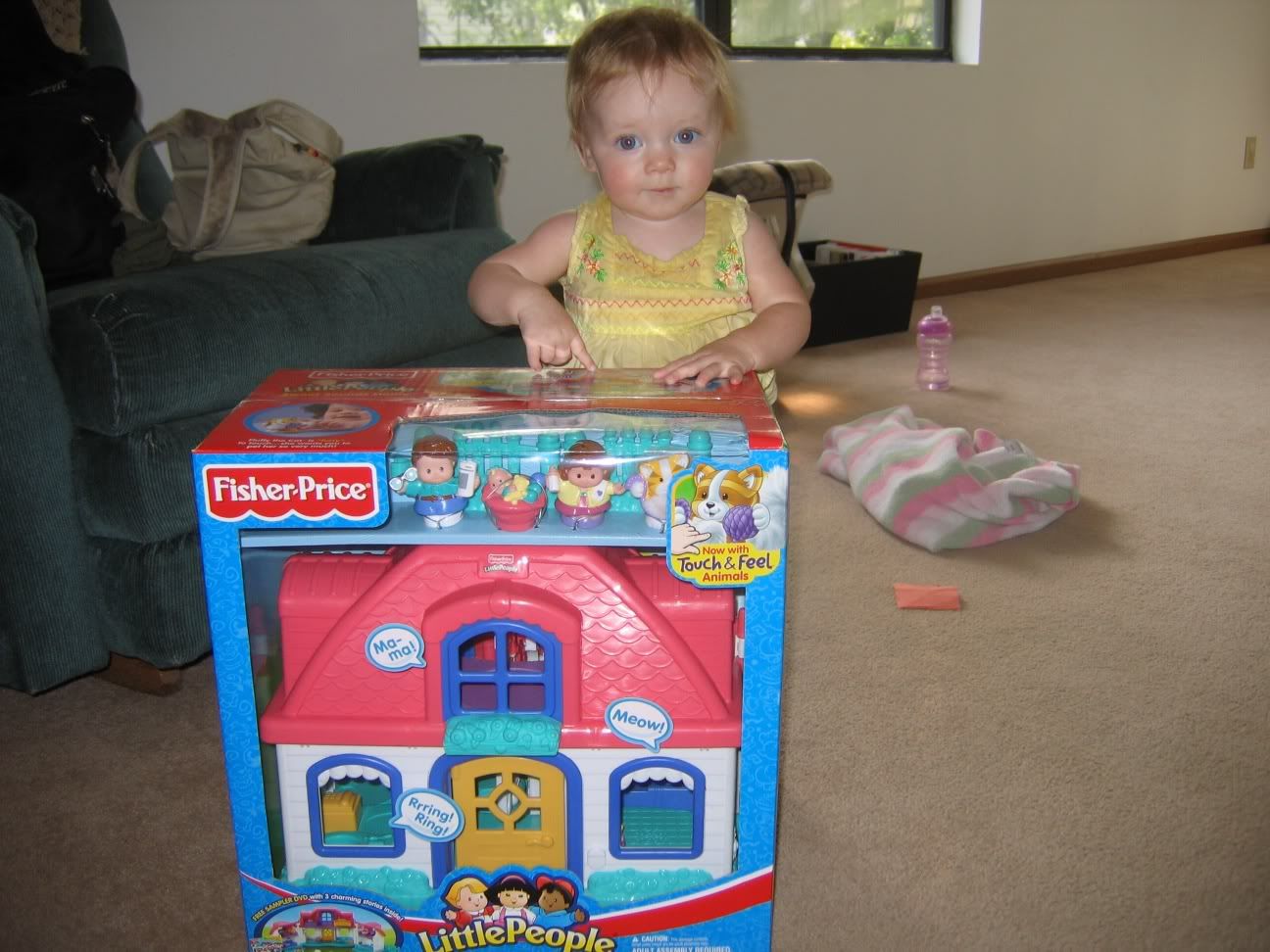 Here is the new princess chair!
Her is the Princess sitting in her princess chair, with her princess poodle, courtesy of the Queen and King of Dayton Idaho
A little family picture on Mollys birthday
Here is Molly playing with her leapr frog book from the cardons. Our favorite page is the 2 cows, with their 2 shiny bowls and 2 yummy pies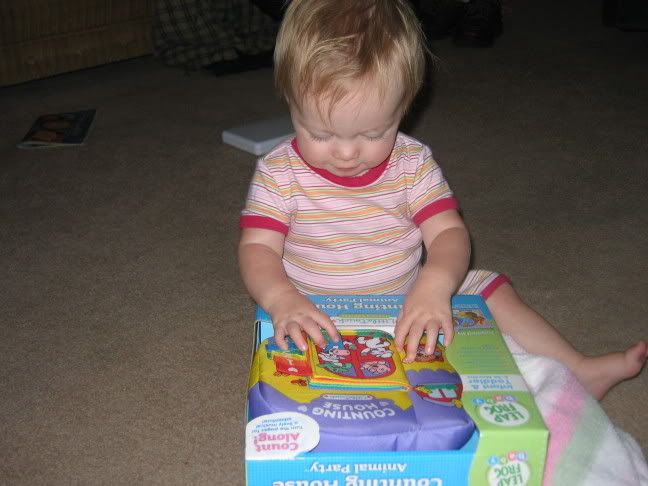 This is the cake while it is still pretty. Didn't Hannah do an excellent job?
This is after Molly destroyed it, but she is still cute!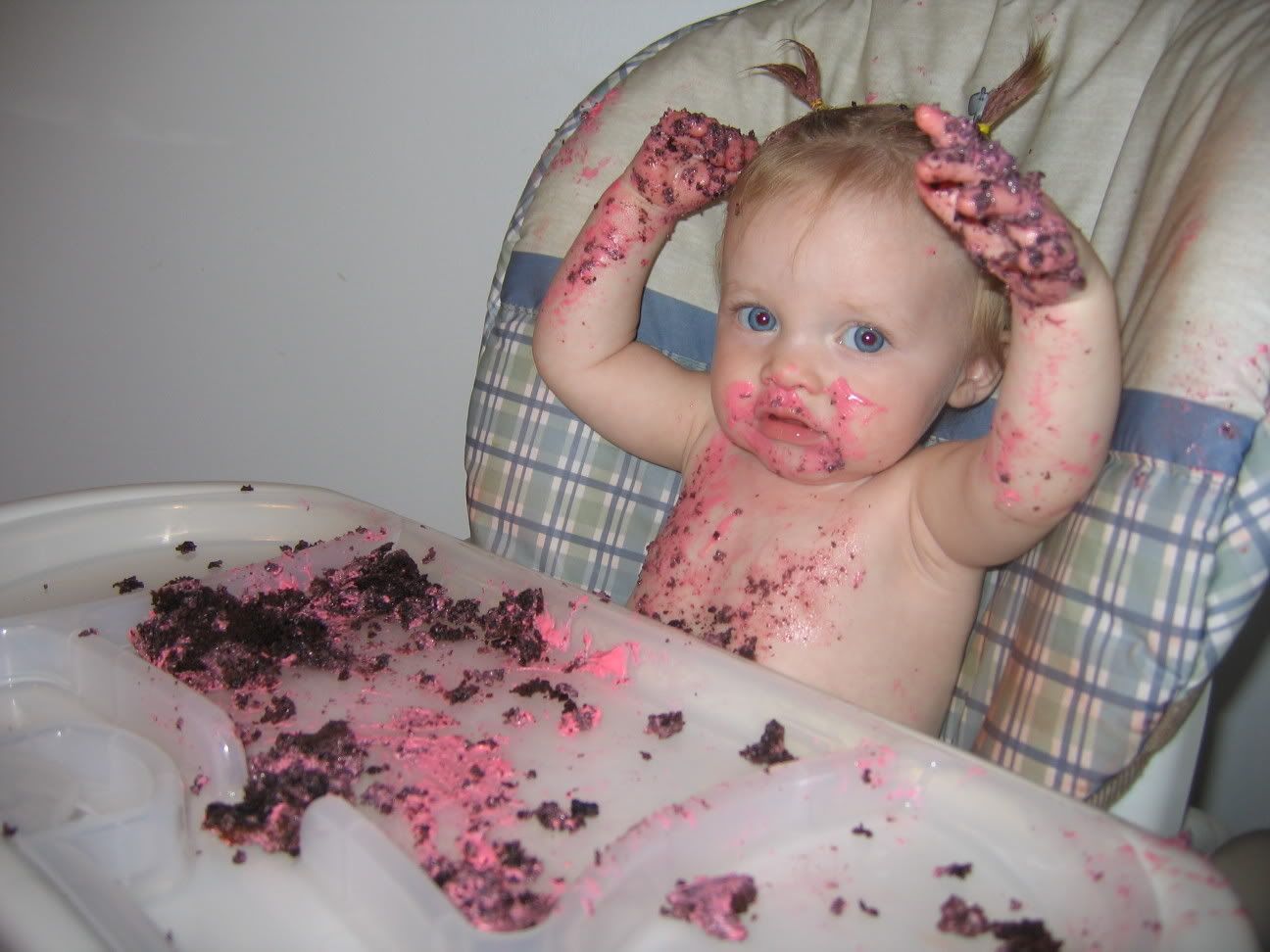 Here is a picture of Molly and her Haul
Jake on his birthday. Can you see the wrinkles under his eyes?
The Oyler's on Jake's 24th b-day
The oylers on Hannah's 24th Birthday