Hello hello. Well we have been a little slow on our update this week. I guess we were just trying to recover from our trip to the coast still. We did go to The Outer Banks, with Cassie and Doug's family last weekend. It took us about 8 hours total to drive to North Carolina. It was fun to see Virginia and N.C. they both have some beautiful places. We spent a few hours at the beach on both Friday and Saturday. We camped out at a little random campground which was more like someone's back yard with some picnic tables and grills. It did have showers though, and toilets. The only problem was trying to get dressed after using either of those, since it was like trying to put clothes on in a sauna. By the next day we had resorted to using the out door showers which were a lot more open and the air circulated a lot more. The first night was the hottest I have ever been sleeping outside.
The next morning we realized none of us really slept besides Hayden, and could not wait for the night to end. Saturday morning we were all up and ready really early and hurry and put our swimsuits on. Too bad the kids thought we were spending the day at the beach (which was our intention) but ended up driving along the coast in our airconditioned car, looking for the perfect beach for the next five hours. Now I don't know about the other car but for us it was great. Molly fell asleep instantly, we were all in our swimsuits with the cold air and Hannah was even able to catch some Z's. And we saw a lot of nice looking beaches and cute little towns. We even found this cool bog where there were so many turtles. We actually talked to a guy who rescued a baby turtle last year after the hurricanes and raised him and was realeasing him back into the bog. It was really cool. After we reached the end of the Outer Banks and found the perfect beach we unloaded all of our stuff, walked across the hot sand to our spot and saw a big sign saying, there was no swimming that day due to the currents in that area. So we got back into our cars and drove back to camp for lunch. Mind you not just any lunch, a freaking hot lunch where even though we brought cold lunchmeat, we had nice hot sandwiches. (Now just a hint at how hot this trip was, between the seven of us, 4 adults and 3 children we drank, 40 bottles of water, 14 caprisuns, and nearly 50 cans of soda pop. This all in two and a half days! ) After racing to eat our lunch we hurried to the beach. It was such a nice day.
I'd be lying if I didn't tell you we were a little worried about how hot it was going to be, but it was so pleasant. We sat and played with Molly and Doug and Jake went out and swam in the ocean for awhile and then Cassie and Hannah went after them. On Friday the water was the perfect temp. but the wave were herendous fun, but herendous. But on Saturday the water felt closer to the water in the NorthWest. But it was a calm as could be. So it took a minute to get into but was still really hot after getting out. Hayden and Alyssa played in the water the entire time we were there. After taking our swims we layed on the beach and there was a nice breeze and we just visited, it was very nice.We went to a movie that night at like nine just to avoid having to go to our tents earlier than we wanted to, but that night was actually okay, a small breeze and a degree or two cooler. We traveled home on Sunday.
It was really alot of fun. And we had some delicious meals, and great company and saw a lot of beauty, and Molly got to go to the ocean, so would we do it again? In a heartbeat!
This is a little film of Molly Eating Spagehtti for the first time. Sorry it's turned sideways. And here is a pic of her doing the same
This Molly Camping with her Cousins Alyssa and Hayden. Alyssa is Molly's favorite babysitter, and Hayden is a great pal.
Molly LOVES the Ocean!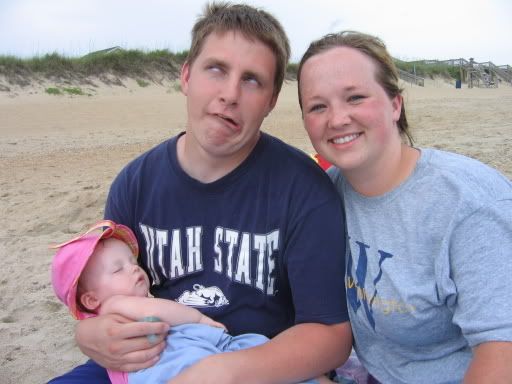 While we were there we won the award for the most beautiful family in the world...pretty much Jake won it for us.
Molly and her Aunt Cassie were too exhausted to go on.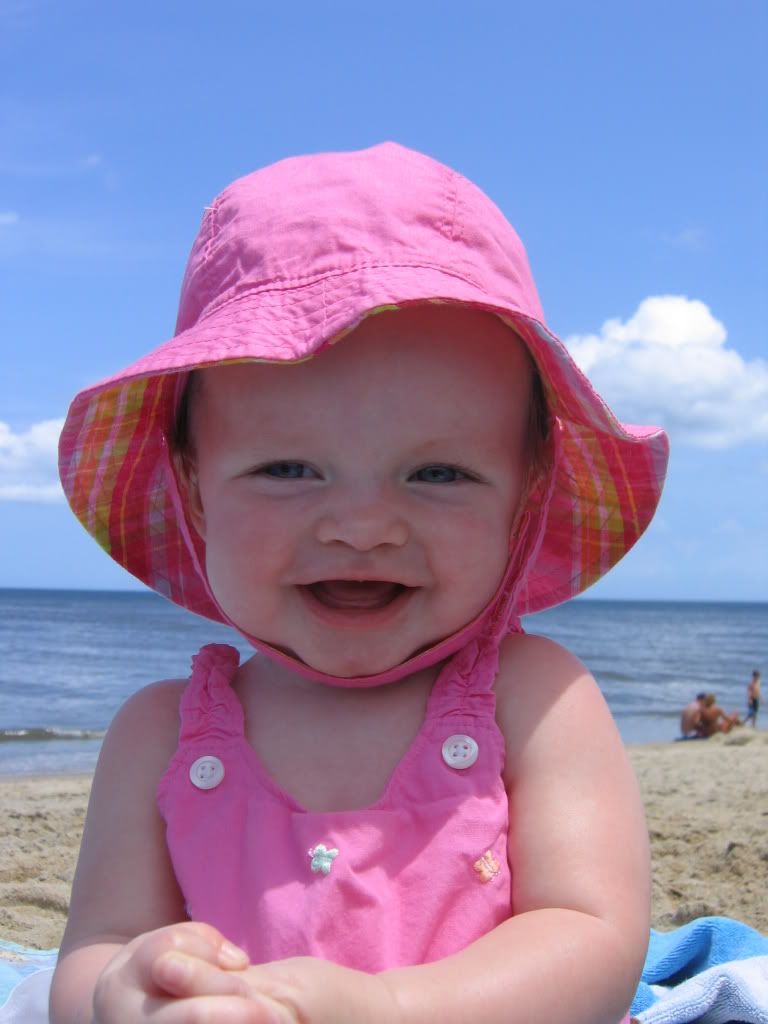 Cute!!!!!!!!!!!!!!!
This is Molly's "got sunscreen in her hair" hair-do
A light house on the edge of the outter banks
Just a picture to show you how big and beautiful our Molly is getting.
We Love you all....Have a good one.