Happy
Halloween Month
Molly wanted to wish you all a happy october by putting her pumpkin bucket on her head. She is really excited for halloween, although dressing up like a dinner plate is no longer an option since her cousin Mia already took that. We don't really have any exciting pictures since Ive been so busy with school, so I won't bother you with those details. Right now we are just looking forward to hannah's parents coming to visit us. Our first over nights guests...how exciting. We are taking reservations now for future guests...but spots are filling fast...Hahaha....
Below are some new pics of Molly. She sure is cute....Also we have a little video of her doing her new animal noises. Have a good day everyone.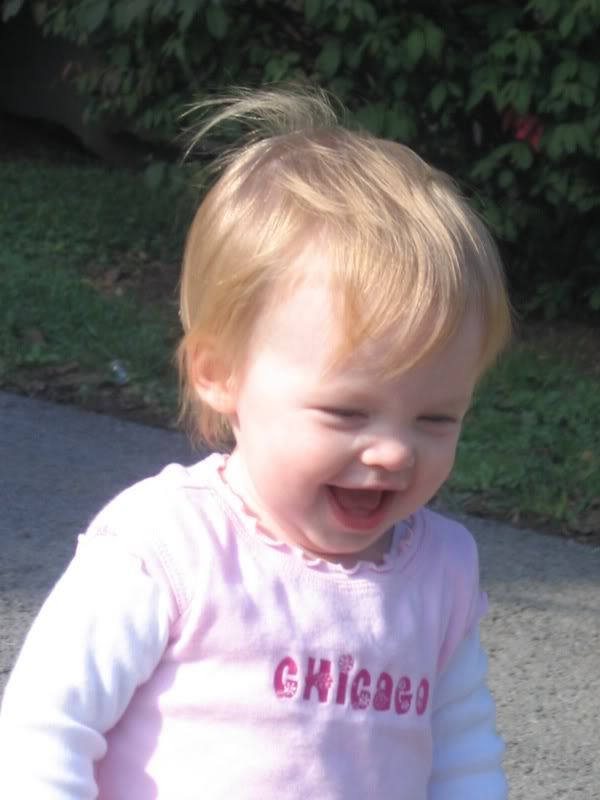 We went outside and played the other day and these are
some cute pictures I snapped of Molly
Our friend Jessie made this hat for Molly before we left and she loves it. She would probably wear a snow hat all day if we would let her.
We bought two new things for Molly this week. A big kid car seat and pajamas. She has to be 20 lbs before the car seat can face forward, so that won't be happening for a while, and we bought these TWELVE MONTH pajamas thinking they would be perfect for the cold weather. Well, she doesn't quite fit into them either. At least they will fit for a long time.
We needed to get out on Saturday so we started driving around and thought we would drive by the Mo-Town baloon festival, and right when we got there they were launching the baloons. I'll be we say 30+ baloons take off into the air. It's to bad Molly didn't see one of them, she was to busy staring at the other people.
Well, we are still doing very well. We do miss everyone a ton, and can't wait for the day that we get to see you all again. Give us a call sometime, or leave us some comments telling us what you are doing. Love, the Oylers.