Well, Halloween was kind of a dud. Molly was all dressed up but had no where to go. We were in the toughest predicament because we had the cutuest Halloween costume for Molly (see BEElow) but when Halloween came we didn't know where to go. If we took her trick-or-treating people would think it was wierd taking a girl with no teeth out to get a sack full of tootsie rolls and candy bars, and since our ward did their event last week we had no plans. A couple did invite us over but 2 hours before she called and said her kid was throwing up, so it was a dud. Hannah still dressed Molly up and brought her into my work so the ladies their could ooooo and ahhh over her. They thought she was the cutest. It's a good thing we didn't really take her out cause she ended up with a fever over 100 degrees.
The nextday, November 1st, is also a Holiday in our home. That is the official launching of "The Holiday's." It's takes everything within Hannah to keep the Christmas music away until then but on November the 1st all bets are off. I came home from work with Christmas music playing, Molly was all dressed up in red and green, and we had a nice dinner. It was supper sweet.
Then on Friday Hannah and I wanted to do something new so I Pricelined a hotel in Pittsburgh and for $35 we stayed in the Raddison. It was a pretty sweet getup. On the way we stopped at this famous candy store (Serris Chocolate's) which was a really neat store with christmas decorations everywhere and candy all over the walls. Hannah was in heaven (because of the christmas things) but the Carmel was delicious. The next day we we went to the Children's muesum which was a little disapointing but they did have a pretty sweet Mr. Rogers Neighborhood display (also see pictures below). Anywho, it was a dang fun weekend, and seeing new things is probably our favorite thing about living here in WV.
Oh yes, and we are still morning the West Virginia University loss to Louisville. I thought for sure they were going to win the national championship and then I would for sure KNOW that I am their good look charm. Maybe next year. GO MOUNTAINEERS!!!
Take a look at some of these pictures. We love you all. Let us know what you are doing.
We met Hannah's parents at the DC temple 2 weeks ago and snapped this picture. I think the bright light in the top right is an angel. Just kidding.
West Virginia is beautiful year round, but man it sure is purdy in the fall
This was a sweet cemetary we found in Cumberland Maryland. This is where the soldiers are barried that fought in the cival war
This is us out enjoying the fall weather. The leaves make us look like a rugged family. Wouldn't you agree?
As you can see it didn't take Molly to long to warm up to her grandparents . This is right before they left and we thought it was pretty cure. Molly promised to also give kisses to anyone else who is willing to come and see her. Ha ha.
This is my BEE-utiful bumblebee. Wouldn't you agree?
I'm shocked!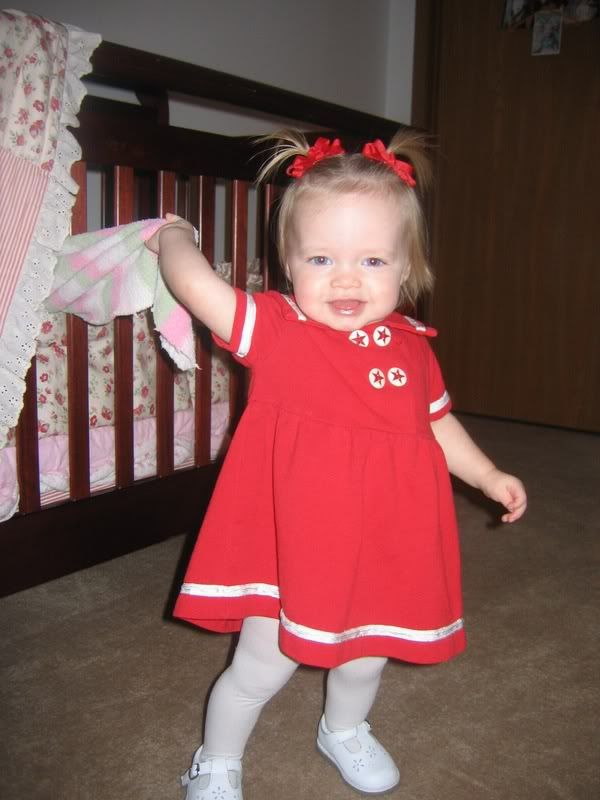 I cought Shirley Temple red handed trying to still Molly's blanket. She didn't make it very far.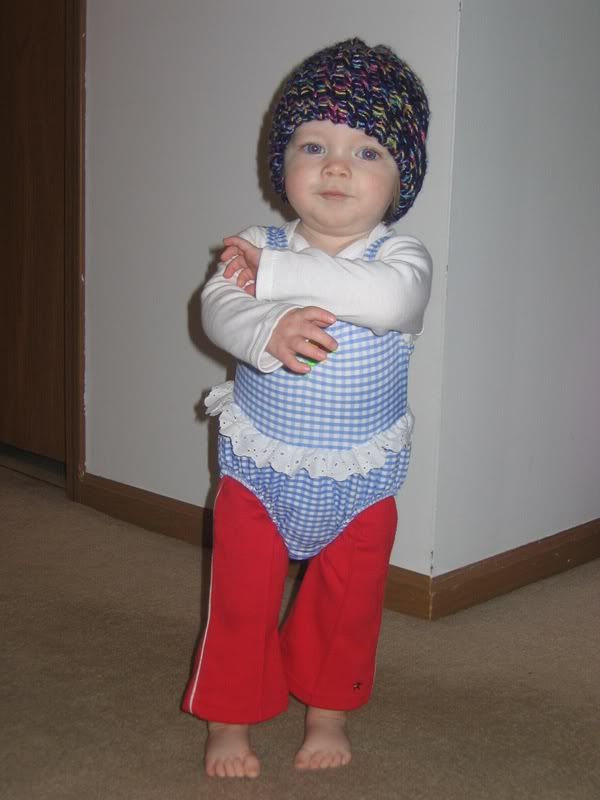 Molly insisted wearing her swimming suit the other day. You may say, "Why?" I say, "why not!"
This is Molly looking Octoberish. Oh by the way, as in the rest of the pictures, she is sporting a hair bow made by her Aunt Katie. Theu sure make her look super cute.
This was at the candy store. Right after this picture I through Molly over the top of the plexi glass so she could get each of us a piece of the candy house....just kidding.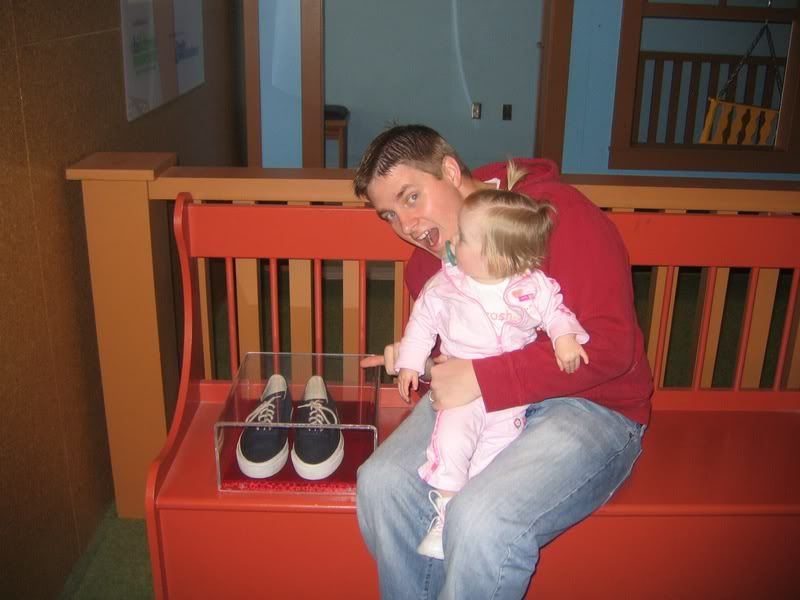 This is an old pair of Mr. Fred Rodger's shoes! I think we should all now have a momment of silence. Rest in Peace Freddy Boy.
This is Hannah showing off one of his old sweaters. Not a moth ball to be found. He always seemed to be a neat feller.
Au Revoir everyone. Write soon. We love you.