Hey everyone, it's us again. We have just returned from the Big Apple. It was a quick trip, where we took a bus from D.C. to New York from Friday to Sunday. We went with Cassie and Doug and their kids and got to know them "very well." It was pretty funny because we had reserved for the 7 of us a 6 person suite and when we got there they said, "oh we're sorry, that room flooded, but we have this other room for you". It was a 4 person room that was about the size of 1/2 of a typcial hotel room. We really didn't mind much but felt bad for Cassie and Doug that they couldn't really get away from us. Especially when Molly talked and whined for an hour while she was going to sleep, and the 45 minute night terror she went through at about 1 in the morning.
We saw nearly everything New York has to offer, as our pictures will show below. We had really good weather for the trip. Before you get to the pics of New York there are a few of Molly in Mo-town.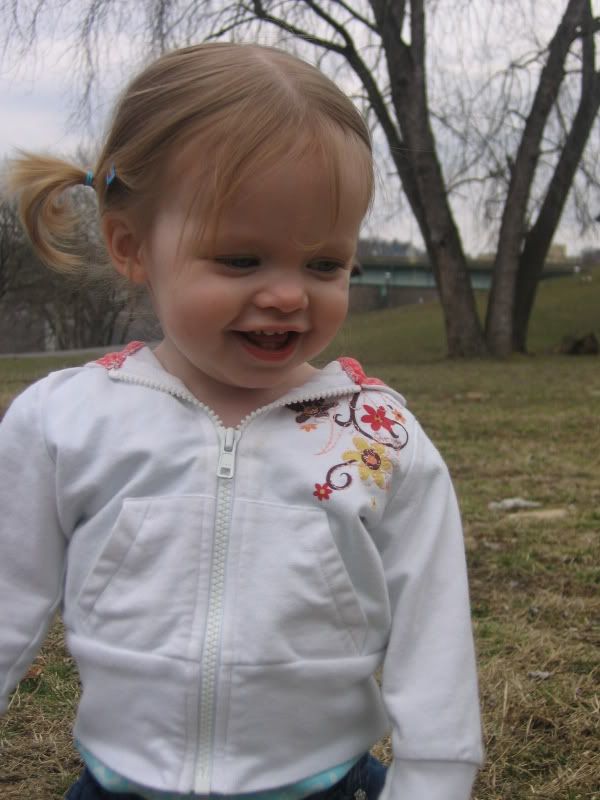 This is Molly at the River Front Park we like to go to. She's pretty cute (we've never said that before).
This is a not so cute picture of Molly, but Dang Funny. Hannah couldn't hear Molly for a while and knew she had to be into something. She went into our room and Molly had a whole box of chocolates out of their wrappers and on the floor and when Molly saw Hannah she started double fisting them into her mouth, and screaming "choc...choc!!!!" This picture was the result.
And in order to redeem herself, this is Molly looking cute again.
Here is Molly in New York at M&M World. By the end of our trip Molly was a true New Yorker.
Dad and Molly at M&M world. Molly loved the big peanut M&M
This is St. Patricks Cathederal off of 5th avanue. There was a big fancy wedding going on at the time. We didn't know who it was, and didn't really care.
Jake, Hannah, and Molly in time square.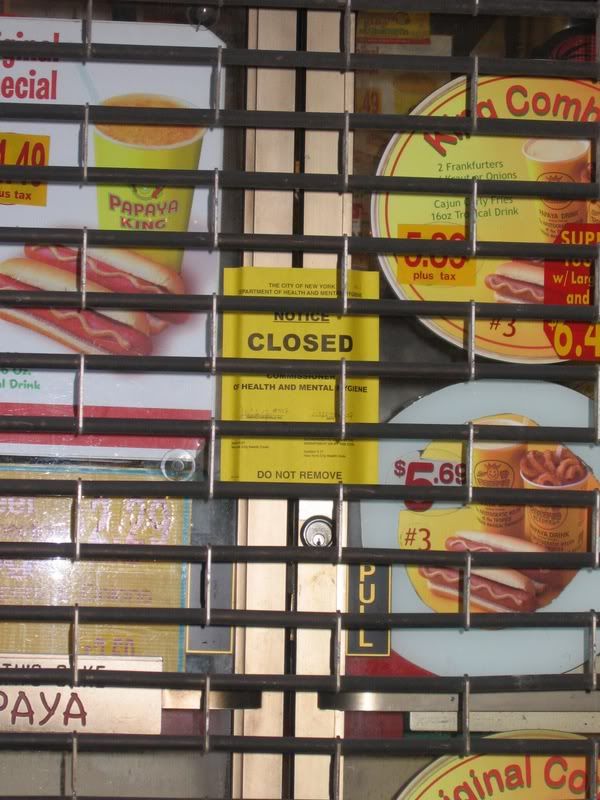 This was a funny story. We had it on our list of things to do to go and get a famous Papaya King hotdog. We rode a subway all the way across town to get there, and then we turned the corner we saw it was closed and this sign was on the door. Then we looked in there and saw that the lights were still on and they were cleaning up still. In other words we had just barely missed it. They had just barely closed the doors. I guess we were saved by the health department.
This Hannah sitting in front of a Art piece. What a hotty.
We of course made a trip to ground zero. It was reall quite disheartening, and really brought back some of the feelings we felt on the day of 9-11. When you looked around there were a lot of people that were still hurting, but then you looked out and could see the rebuilding that was going on and it really gave you a sense of pride for our country and the need to recover. This is a picture of a flag that was raised on a container of the construction site. It was neat.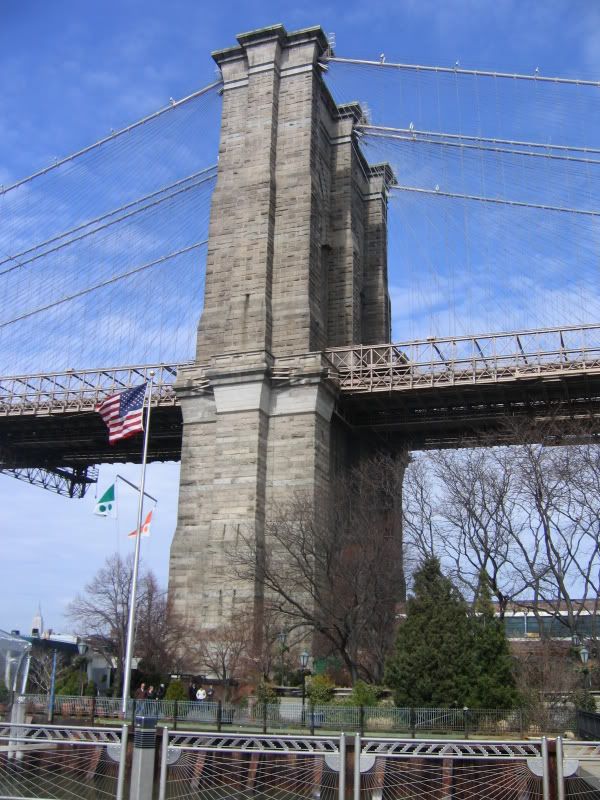 As part of our trip we walked across the Brookly bridge (pictured above) and ate at the "best pizza place" in New York. It really was delicious. Then we walked down to a creamery that was under the bridge and on the peer. That is where this picture was taken.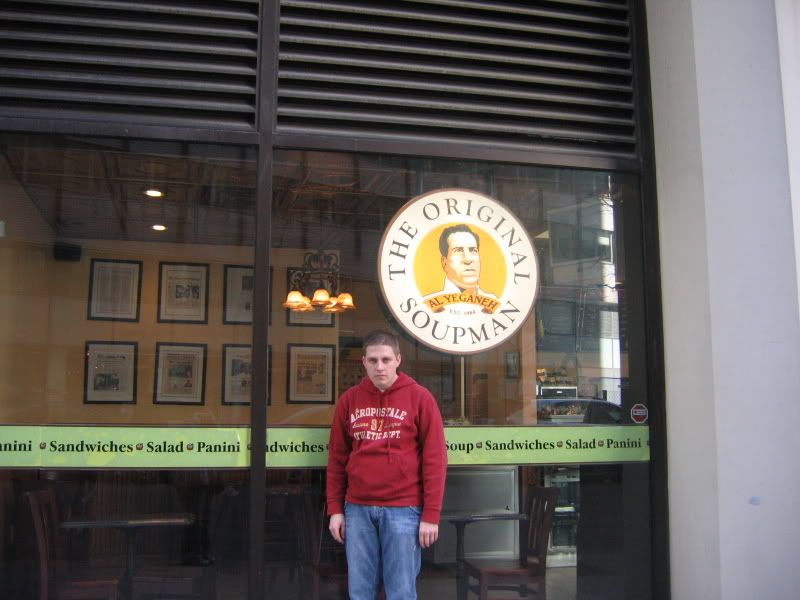 This is the soup place that Seinfeld's soup Nazi was based on. As you can see by my sad face I was just told I don't get any soup.
Here is Molly in her stroller with us trying to get her to go to sleep in her stroller. She refused the first day but by the second and third day she gave up and would ask us to lay her stroller down. We were in Heaven then.
This is Hannah and Jake in front of the New York skyline.
This is us in front of the Satue of Liberty (in case you didn't know)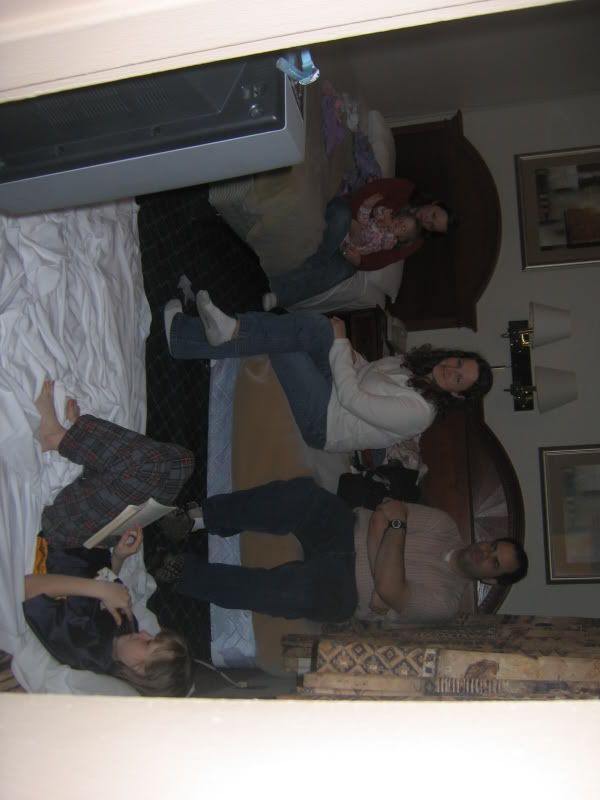 Here is our room. It was glamorous. As you can see, Alyssa and Hayden's bed on the floor. After they put us in this little room we told them we would need blankets to make a bed for the kids, and they brought us a pillow, that was it, 1 pillow (they said it was all they had). We finally talked them into giving us 4 sheets. It was pretty funny.
Here we are in Strawberry fields in central park.
Hannah and I decided to take a momment to take another engagement picture in Central Park just in case we want to get married again. Ha Ha.
This is Molly waiting to get on the Subway, we got to haul her stroller up and down the subway stairs a lot. But it was worth it.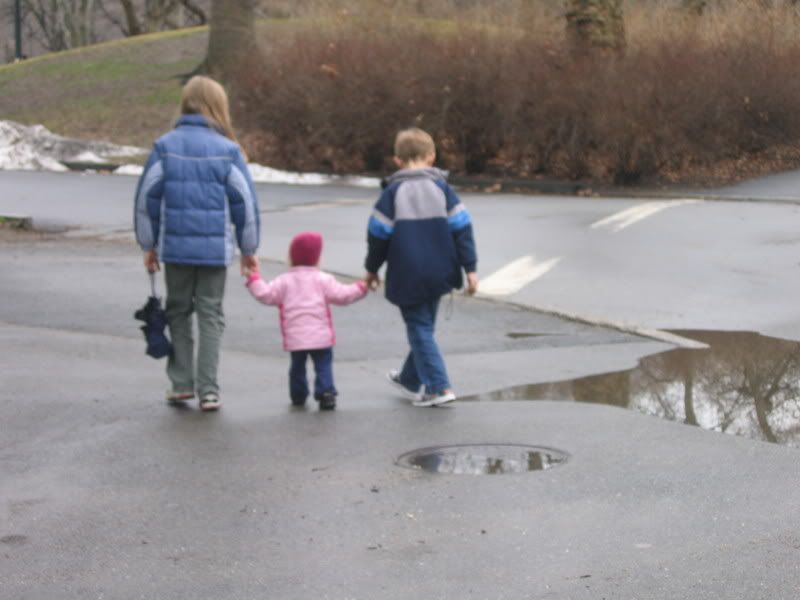 Molly Allyssa and Hayden walking though Central Park. Molly loved being with her cousins.
Molly and Hannah in front of Central Park.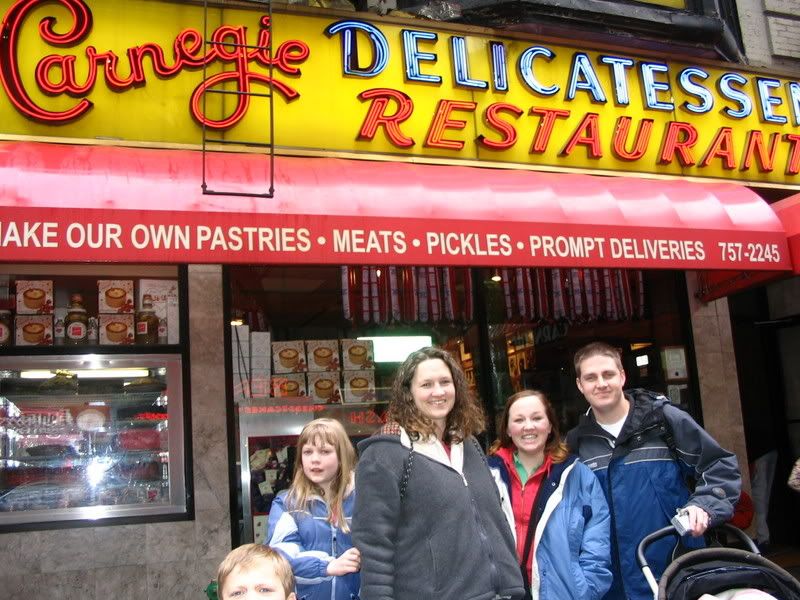 We ate here right after we pulled into New York, the famour Carnegie Deli. It was very delicious. I ate the most wonderful piece of cheesecake. I think it was probably the high light of my trip. Ahhh, when we walked outside we ran into a kid from Hannah's home town. That was wierd. (Niel Lutz for those of you who want to know.)
We found the Manhatten temple.
Alyssa and Molly in Central Park.
Well, if that was as tiering for you to read as it was for me to type I am sorry, but now you know what we did. The sad thing is I only put in a few of the pictures. We love and miss you all.