It's hard to believe that it's been a month since Hannah left for Utah and I left for China. I think I can speak for both of us that we both had a good time, but it was way to long to be away from each other and away from our home. I was floored by seeing how big Molly grew while I was away. She could almost speak in full sentences by the time I got back.
China was a lot of fun, and I got to see some pretty amazing things. Things I never thought I would see. I won't bore you with all the details, but if you ever have time I have about 2000 pictures I would like to show you.
I've had almost 2 weeks off from school so that gave us some time to spend together as a family (drive in movies, fireworks, trips to the park). It took Molly a little while to warm up to me but i think she remembers now that we are pretty good buds. I only have to 6 weeks of classes before I graduate, and so we are moving out of here on August 10
th
. We don't know where we are going, but we are going somewhere. The job search is actually going really well, and I promise we'll keep you updated.,
Our most amazing news is that we had Hannah's Second Ultra Sound and we are having a girl, and we couldn't be more excited! We think it will be so great to give Molly a little friend. Everything looked healthy, so we're excited about that.
Anyway, take a look at the pictures below. There's some of our time since I've been home, some of me in China, and some of Hannah and Molly in Idaho and Utah. We miss you all. Take care, and we love you.
Molly with her cousins.
This is Molly's new
scary
face. We think she learned it in nursery but she pulls on it so hard we think she's going to hurt her face. It is pretty
scary
though.
Her is Jake
standing
in the Courtyard of Some Palace in China. That's pretty much all I remember about it.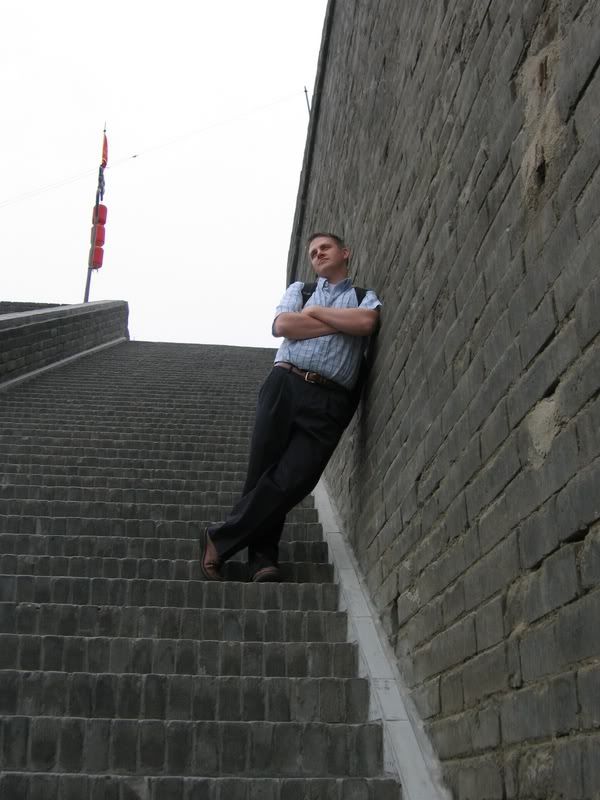 This was the City wall in Xi'an (which is about 700 years old) I thought I would get my Senior
Portraits
taken next to it.
This was a big park with a bunch of these Statues. We all have a huge pile of pictures very similar to this.
The Terracotta Soldiers. This was one of my favorites. Crazy Chinese leaders! Who
buries
8000 life sized soldiers in the ground with you when you die?
This is a cool building outside of the
Yu
gardens
. It was neat.
Molly and Jake on the Shore of the Mon river. Last night we went and saw the fireworks here and that was pretty darn fun. Molly liked them.
We went to one of our parks and this new monument had been built while we were gone. It's a monument dedicated to all fathers, so this is Little JFK Jr. saluting his dead. Molly thought it was pretty neat.
Molly LOVED going to do chores with
Grandpa
. She would just sit on the 4-wheeler and watch him feed the cows. It made me kind of jealous that I didn't get to see her with all of the animals. If we would let her, Molly would stay outside all day.
Her she is on the Bale Wagon. Pretty cute picture huh.
Grandma and Molly hanging out on the swing. Another new favorite.