Hello hello! Yes we are alive and doing well. Sorry we have been out of commission for the last two months but hopefully there are enough pictures here to satisfy your need. We are in Houston, Texas for those of you who don't already know. Jake has a job here and we really like it so far. Well enjoy. By the way there isn't really order to these pictures, just random ones we liked.
Our little family outside of the Houston, Texas Temple. It is a beautiful and different temple.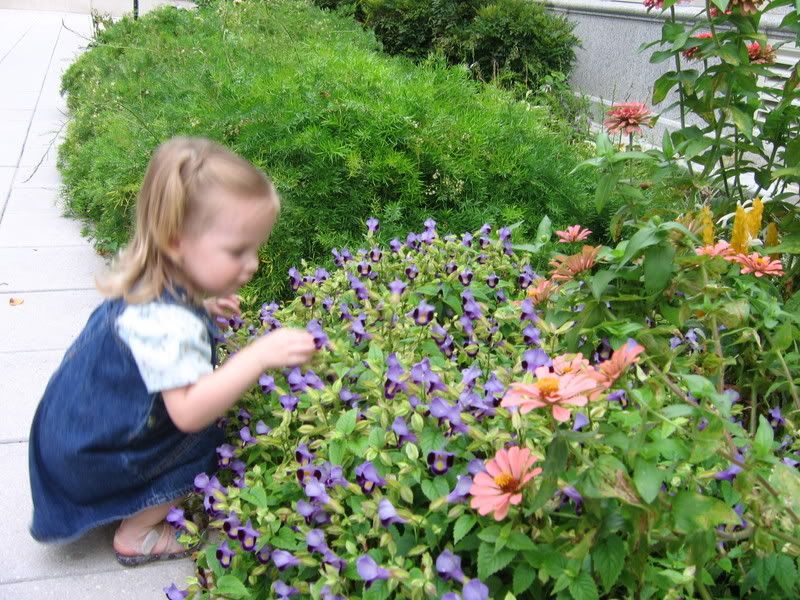 Little Molly smelling the flowers. Isn't she adorable.
Here we are by the river in Morgantown watching fireworks for the 4th of July. It was so fun!
Oh sweet. Hannah and Molly at the temple...they are actually looking at a snail they found in the fountain .
Molly playing on the playground on her birthday....this was the hottest day we had the whole summer in Morgantown, but it was what she wanted to do, so we did it.
Molly after church a couple weeks ago, looking so big. She seems to be doing that a lot lately.
Out on our balcony...looking really cute and big, again.
Here we are at a lookout point in Gettysburgh. We went here with Jake's parents when they came out for his graduation. It was a lot of fun and really interesting.
Molly insists on wearing this hat quite often....a little ghetto, but isn't she still somehow really cute?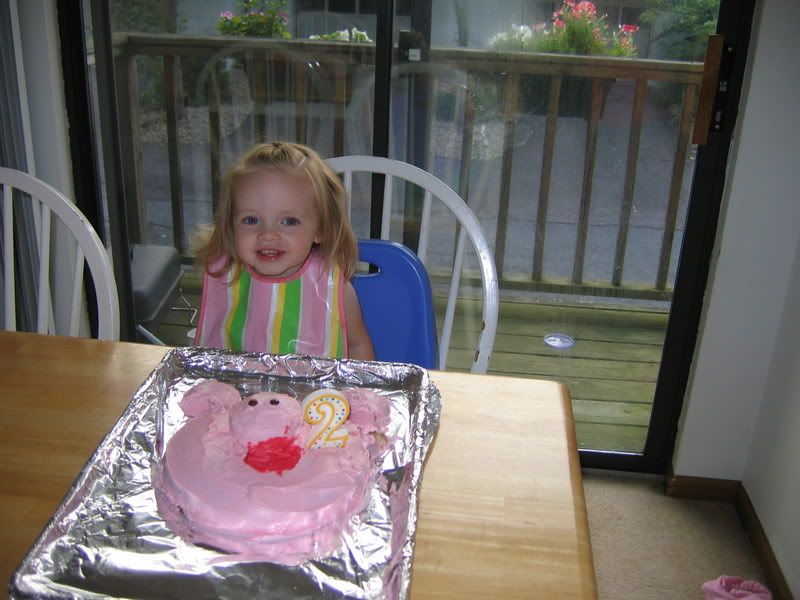 Molly on her 2nd birthday! Time flies so fast, it seems like we just celebrated her 1st one!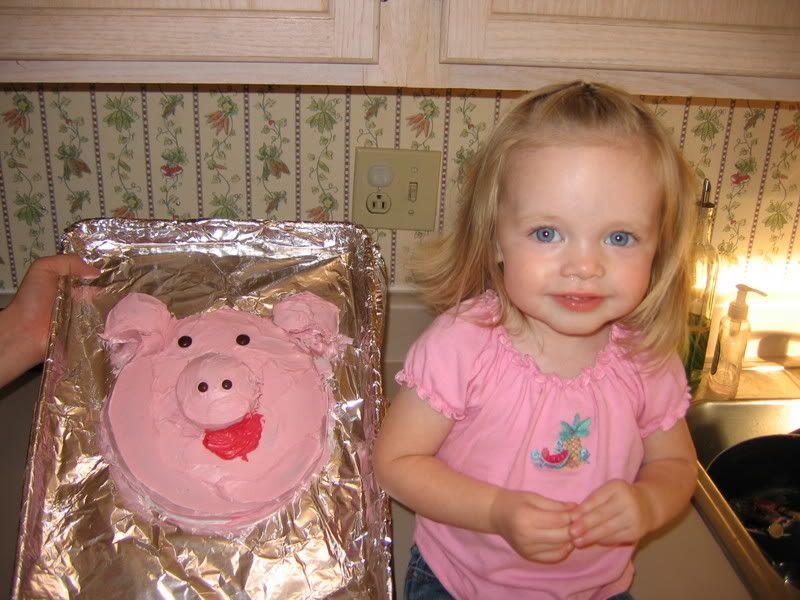 Here is Molly with her Pink Piggy cake that she insisted on having for months before.
Molly and her Daddy at his graduation. Way to go Jake! What a big accomplishment!
Proud parents who took the time to come all the way out to WV and celebrate this big moment with us. Thanks again.
Our family in front of the Mountaineer.
Jake and Molly on Jakes birthday....the big 25, he is so old and way closer to 50 now, than he is to 0.
Hannah and Molly at the PNC park during a Pirates game that we went to on the 4th of July.
Jake and Molly at the Pirates game. Molly sporting the free patriotic hats we got for free there.
Molly earlier on the 4th of July. Isn't she super cute?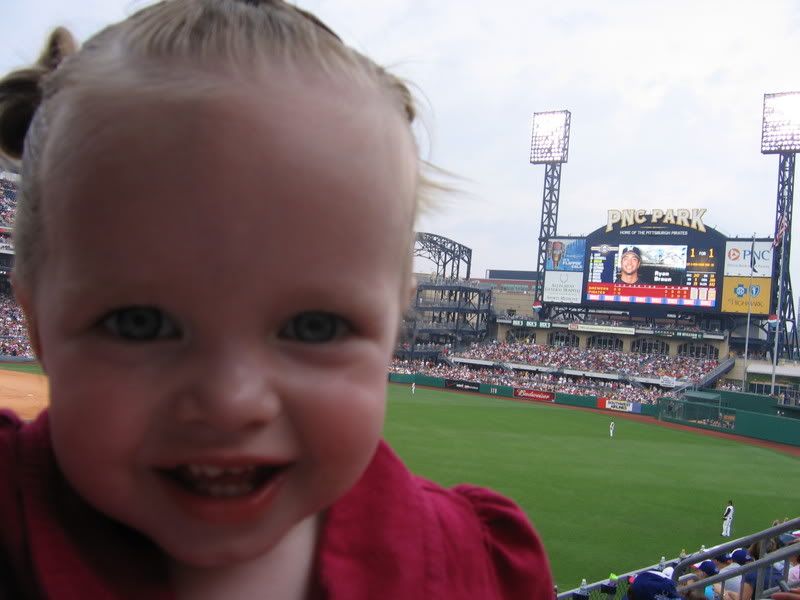 Molly enjoying one of her favorite pasttimes. We went to 3 baseball games this summer and she was so good at all of them she especially loved cheering for the Mudcats in Zebulon, NC.
Just a really cute picture.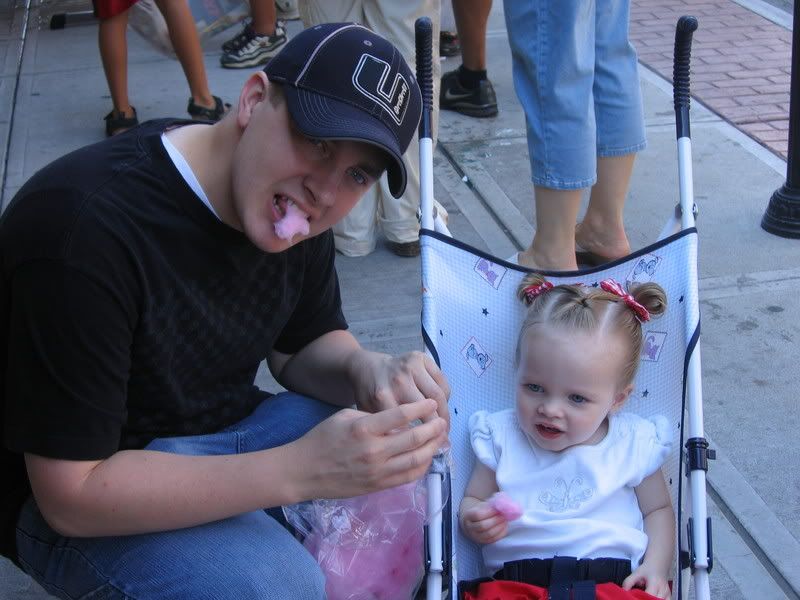 Jake and Molly eating cotton candy at kids day in Morgantown, this picture was taken for Grandma Jill, she loves cotton candy.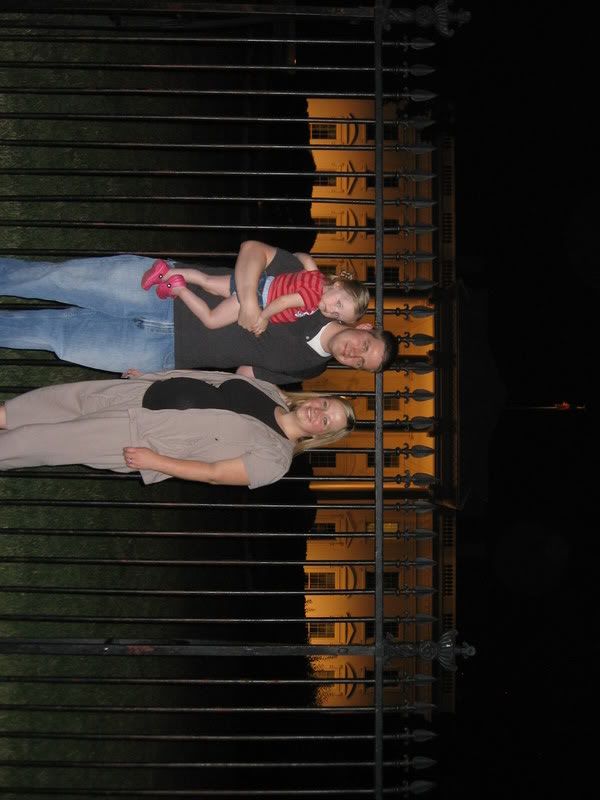 We finally made it to the White House right before we moved. It only took us about 7 times to D.C. before we saw it.
We went to Harpers Ferry and by the time we got there everything was closed up, so we walked down to these two rivers that meet. One of them was the Shenandoah, I don't remember the other.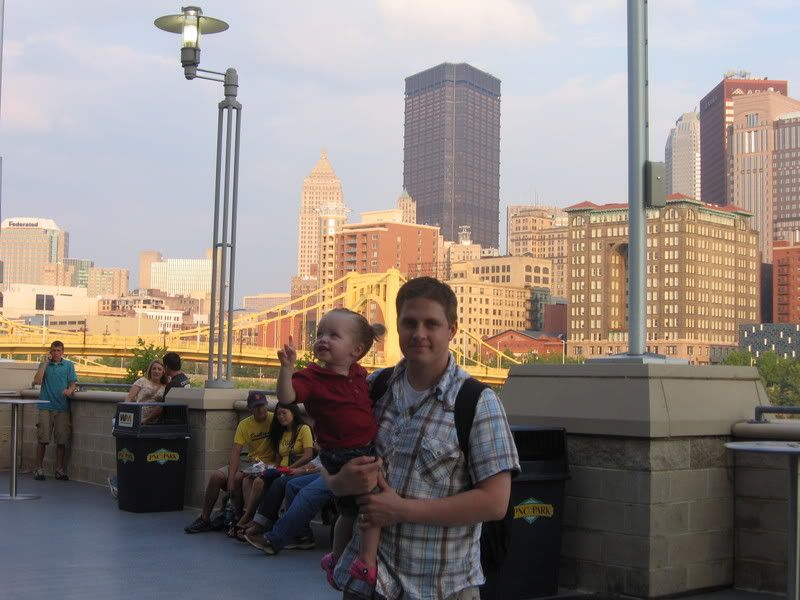 Jake and Molly with the Pittsuburgh skyline behind them one last time.
Well thats all for now. But if you keep coming back we will now be better about this posting stuff now that we are settled. And if you stay tuned in you will be lucky enough to see pictures of our new addition to our family here in 2 and 1/2 weeks! Love to all of you.