We went and got the girls' pictures a few weeks ago. We wanted to get "new baby" pictures of Annie, like we had with Molly, however, even though she was only 3 weeks old she doesn't look very new in these. She was wide awake and looking around. These are some of our favorites and a couple of other random pics. Sidenote: if you don't have to go to J.C.Penny, don't.
Molly laughing. This was such a great picture of her giggling, we couldn't pass it up.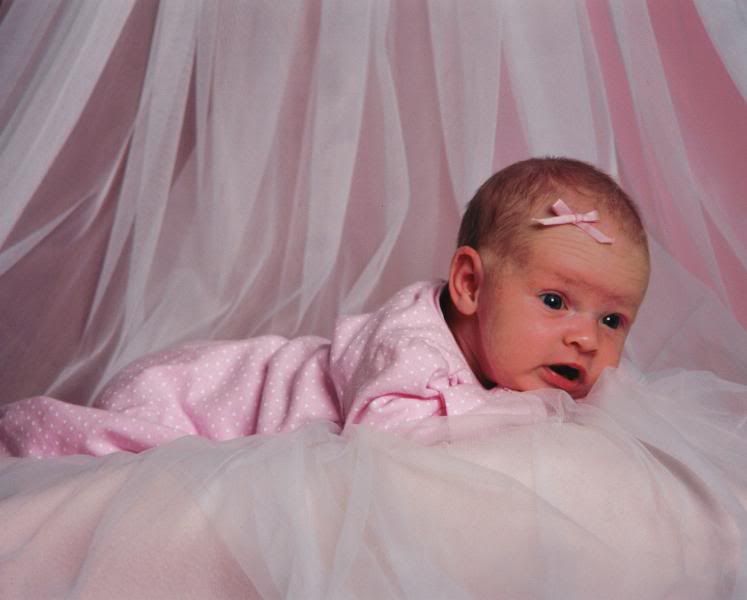 Our "new" baby. She is and has been since she has been born, so alert and awake. If you will also notice her perfect little hair line, well that no longer exists, it now starts halfway from the back and has other little balding patches, but I promise she is still as cute as ever.
The girls hanging out together, this is one of their favorite things to do
Sweet Sisters. Aren't they so adorable? I know you don't even have to answer.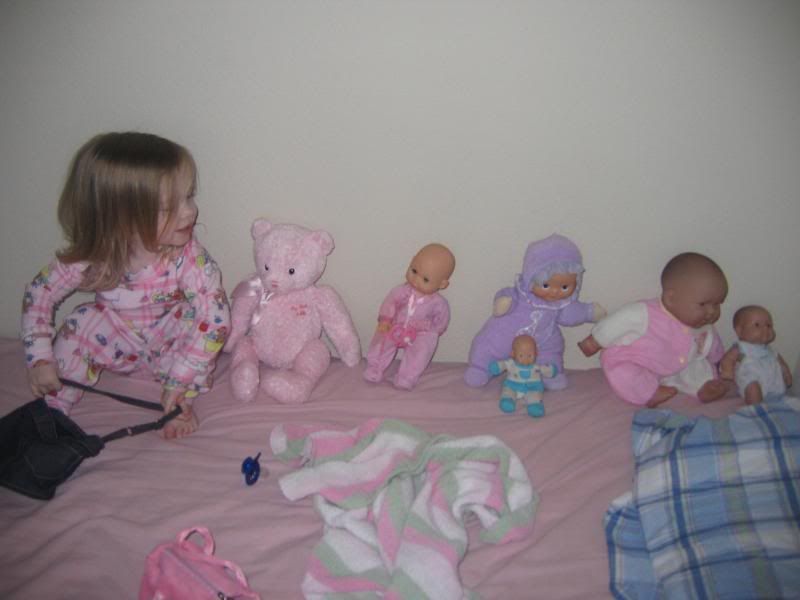 The other day Molly was supposed to be napping before church. When it was almost time for her to be up and getting ready and I could still hear her in there talking I went to see what she was doing and she had lined her babies all up along the wall like this and was talking to them. Oh she makes us laugh all of the time.
Some of the funny things Molly has said lately include but are not limited to: (Me and her arguing over which binky Annie was using and me trying to get her to tell me where she hid the one Annie wanted) Molly where is the yellow binky? Mommy she is using the green one. (After a few verses of this) Molly Jane where is that yellow binky? (Molly all matter-of-factly) Mommy Hannah she is using the green one! She also says a lot, Mom I am so serious, and wow that was awsome I did that and Oh my I don't believe it. She is talking so well, sometimes too well.
And our sweet little Annie is changing and growing up every day. She has been exceptionally good this week. And we spend many moments talking silly to her because she has now mastered the art of smiling and cooing. Oh I can't even begin to tell you how much I love her little dimples and how I could do this ritual all day every day, I mean if I didn't have anything else to do. She is such a good baby and we love both of our girls so very much.