Last week Jake had to go to Galveston Monday-Wednesday for a safety training. He drove down there Monday and came back that night and then also did the same thing on Tuesday, but then Tuesday night we turned around and the girls and I went back with him. We stayed in a hotel and both of the girls were so good. Wednesday afternoon we went to Kemah Boardwalk. It was a really fun day and nice to get out and do something. The weather was perfect (meaning a little cooler than its been) and it wasn't crowded and the girls were so good. Here are a few pics below. Molly and Jake riding on the carousel. Molly loves these and I don't mind them as long as I only have to ride one every once in awhile. Good thing Jake doesn't mind them.
Molly looking at the alligators and turtles.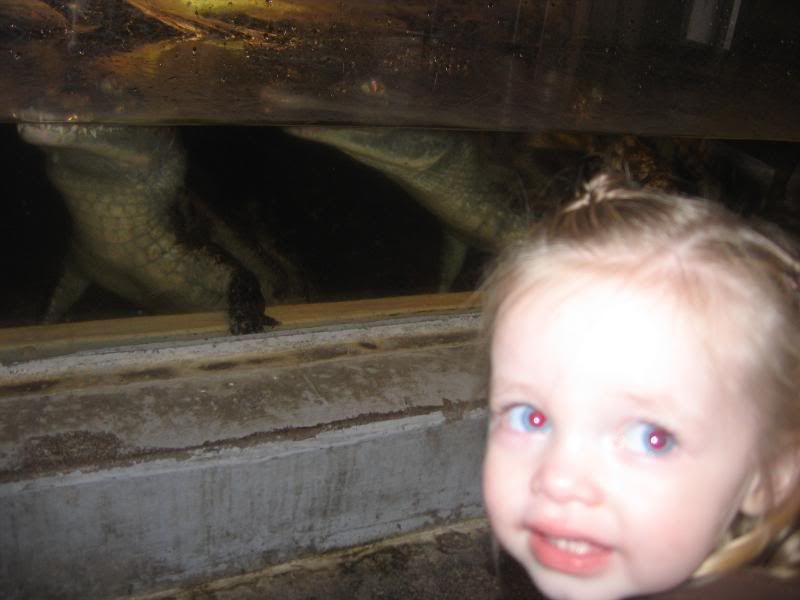 Molly and Hannah with the water behind them and of course the boardwalk too.
Molly cheesing it.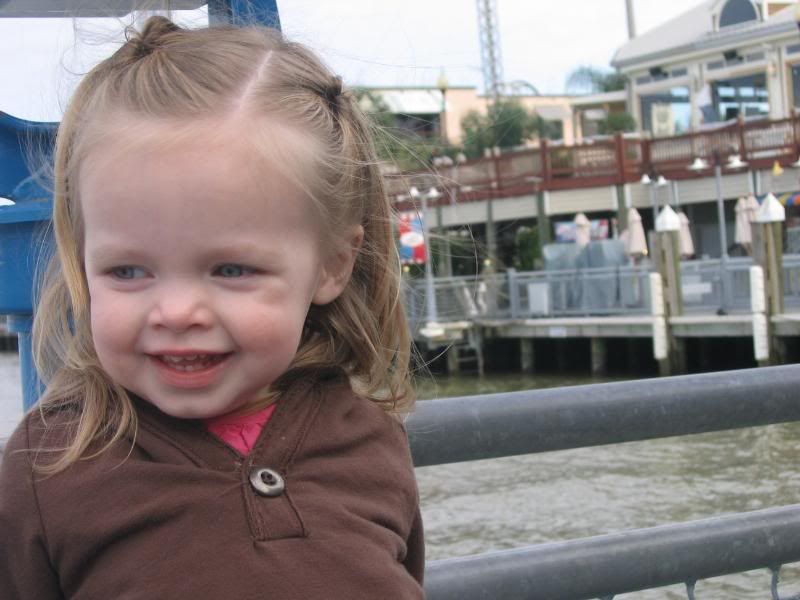 Molly hugging this hungry shark.
Happy Holidays from the Oylers. They were putting up all of their Christmas Decor so you know I was in heaven. Isn't it crazy there are four of us now?
So, I've heard before that when you have a near death experience, your life flashes before your eyes. I never beleived them until my terrifying experience at Kemah Boardwalk. We saw a sign that said you could feed stingray. I've been to things like that before...when you get to touch and pet these cute little sting ray. I was so excited to show Molly how cool they were. So I paid my $5.00 for my 4 limp sardines and approached the tank. As I saw the sloshing of the fish tank I knew that these were not your average stingray. There was nothing in there, but massive, garganteous, blood thirsty beasts. They weren't hungry the sad excuses for fish that I had in my hand, they were hungry for Jake!!! The guide explained to me, "Just put the fish between your nuckles and and stick it down into the tank between the fish and the wall." She might as well have said, place your arm in that there steel trap and you might get some of your arm back." By this time Molly is crying, "Daddy, No!" Hannah is cowering in the corner with fear. But I must! I must prove to my family that I am a real man. At this point, thoughts of Steve the animal guy are running through my mind. "If one of these took Steve-O down (R.I.P), what chance do I stand)?" Without thinking, I quickly plunged my arm deep into the water. Seven "rays" (that's what professional sting ray feeders call them) begin clammering out of the tank. The first one swims by. It was a miss. For those of you who haven't studied Sting Ray annatomy, there mouths are only about an inch wide and are in the middle of their bellies. To eat, they have to turn on their built in Hoover, and eat whatever they can suck in. So when they miss, they miss the fish, but they eat your arm, which was exactly what happend to me. I have never been so scared. This fish sucked so hard, it bruised my arm. I'm not sure whose idea it was to put 30, 6 foot, hungry stingray into a pool, and send in only one guy to feed them with 4 limp sardines. Well, as you watch the video below, you'll see that after my first attempt, I decided sticking my hand down in the water wasn't the best approach, at the same time, it wasn't necessary, since they were getting out of the pool to say, "hi" to the kids, I'd just toss one in their mouth. Sheesh!