Hello Hello. We are back. We have had a busy couple of weeks. Hannah's sister Holly came into town on the 23rd and stayed until the 31st. It was a lot of fun to have more family here and we are sad that our visits have come to an end. Molly had a lot of fun playing with Holly and being her chica babe ( a nickname from Holly) and I think Holly really enjoyed her relaxing vacation and being able to hold sweet Annie. We spent our time with Holly going to a ward Halloween party, picking out a pumpkin, making sugar cookies, and doing a lot of grocery shopping. On Halloween I took the girls into Jake's work all dressed up. It wasn't quite the same as last year when I took Molly into Jake's work full of women who oohed and ahhed over her. His work is now full of men who if we were lucky we got a " hmm cute butterfly". We took Jake out to lunch and that night we went trick or treating with a guy from Jake's work and his little girl. There were about 6 little girls with us and Molly loved it. She was a little slow and confused I think at first but after about 4 or 5 houses she got the hang of it and was soon running with the other kids and after every door she would shout..."Mommy, Daddy, I got some more candy, I need some more candy". It was really cute. I think Annie enjoyed her first Halloween as well. She didn't get as excited about the candy, but I think she enjoyed her nap in the stroller as we walked around in the 80 degree weather. We also got to celebrate on November 1st. Yup its that time of year again, Christmas music has and will be playing in our home for the next couple of months. We celebrated by having a nice dinner when Jake got home from work and listenting to some music. Well here are a lot of pictures in no particular order. Enjoy!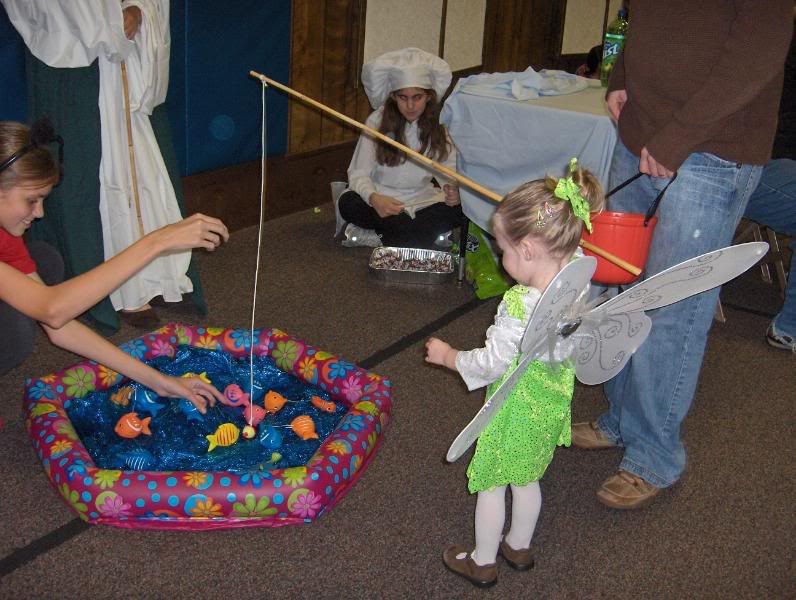 Molly at the ward party fishing for a treat.
Annie and Molly showing off their Halloween outfits.
Molly sitting on a pumpkin at the patch we went too, or I guess I should say church lawn we picked them off of.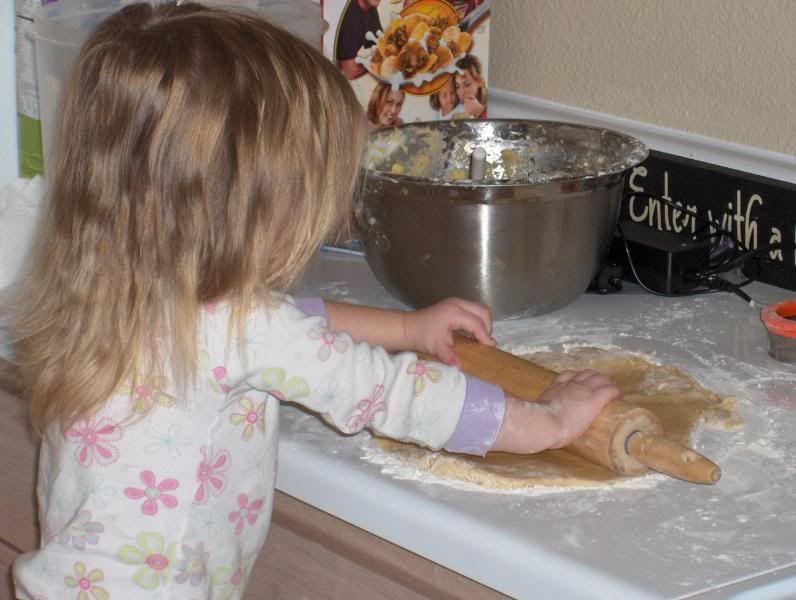 I let Molly help me make sugar cookies for the first time and she even rolled and cut out one whole batch completely on her own. It was so cute and so fun to do with her.
Our little family.
Isnt' she cute?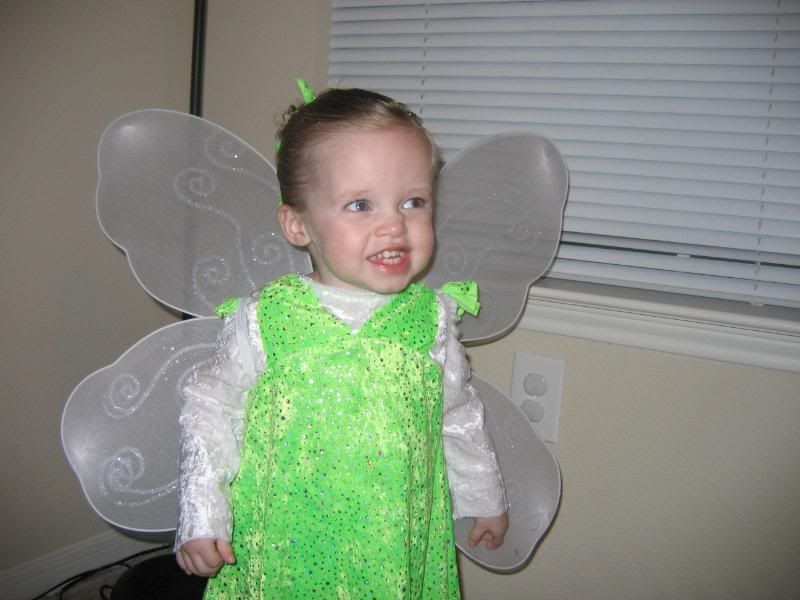 Our little Tinkerbell. Her Aunt Cassie made the adorable costume with some additions from Grandma Lynda. Everyone thought she was so precious and had to make sure to tell us at least a couple of times.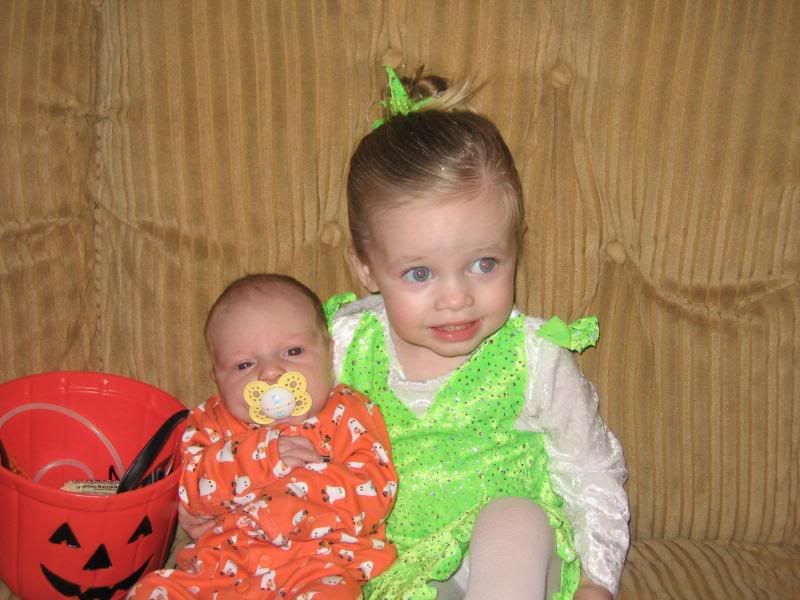 Our super cute girls. Molly loves being a big sister and she is such a good one.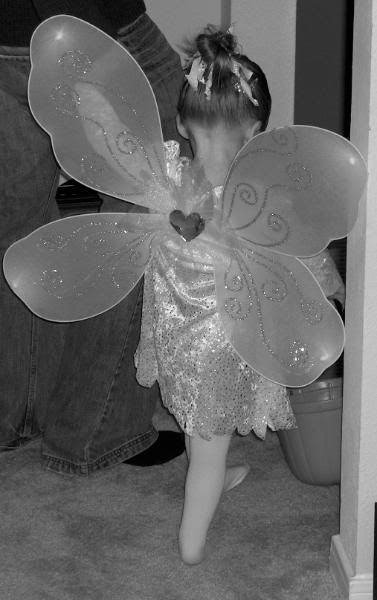 Molly with one of her very own cookies and she actually decorated this one all on her own too.
Daddy and Molly
Molly on a cart and the pumpkin place, I think she is a little distracted.
Mommy and Molly
Ooh scary and man with a pumpkin head. It was qutie frightening!
Little Annie on her first Halloween. Isn't she so big. She is one month old today! We can't believe how fast it has already gone by. She is holding her head up so well and smiling and interacting a lot more now.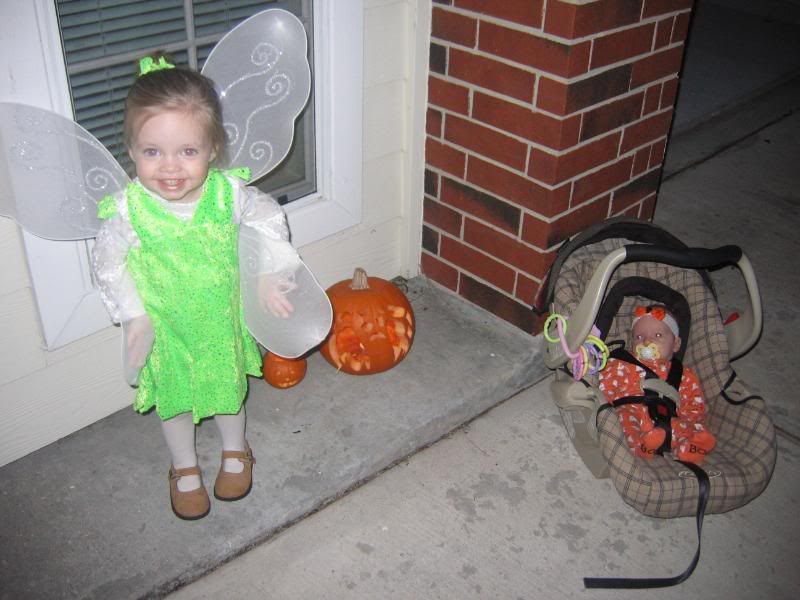 The girls with the pumpkins. The little one is Molly's. We told her she could pick out any pumpkin she wanted and that was the lucky little guy.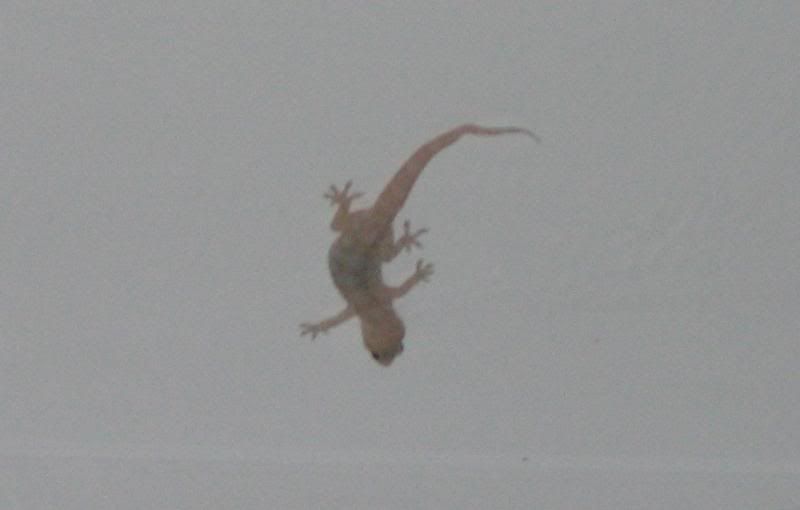 This is one of the many lizards that like to crawl on our garage at nights. We see them quite often and Molly thinks they are the greatest. I on the other hand think they are quite disgusting.
Our first pumpkins we've ever carved as a family. Isn't Jake's spooky tree so great? He did it completely free hand, I was quite impressed.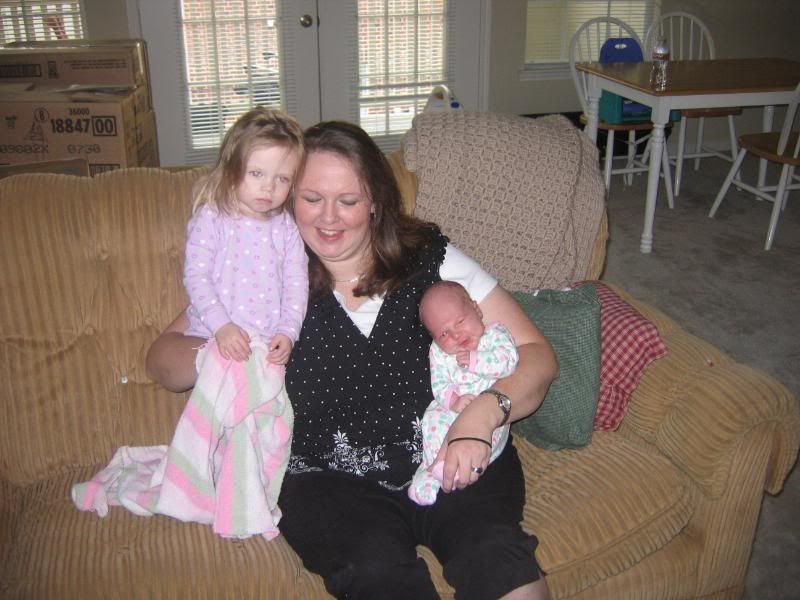 Molly and Annie very sad that Aunt Holly is going bye bye. It was fun to have her here though.
Well thats all. We will try to get some new pics of Annie up soon, she changes so much every day.