Y
es we have we have been gone for awhile, but in our defense we have been very busy. About a week before Thanksgiving we were lucky enough to get some very inexpensive standby tickets through a friend of a friend and decided last minute to go home for the holiday. We were very nervous with a new baby and and an active 2 year old that we might not get on the flight we wanted and have to be in the airport all day. But we were very blessed, because we were able to get on the flight we wanted to and have a direct flight to SLC. We arived in SLC Wednesday evening, rented a car and drove to Tremonton to surprise Jake's family. We had only told a select couple of people we were coming so we were really excited. It was very fun to see how excited they were to see us.We hung out there and spent the night. Thursday we drove to Dayton to surprise my family. For those of you who don't know my family is big and everyone was going to be there besides one of my sisters. My dad was the only one to know, and when we walked in and said hello, you should have heard the screams of excitment and seen the running towards us that everyone did. There were teary eyes all over the place and Molly was bawling too, but not from happiness, hers was from being terrified by all of the noise and hugging. It was so much fun to see our families and let them see little Annie for the first time for most. We spent the next couple of days driving between Tremonton and Dayton, to make sure we spent as much time as we could with both families. We had so much fun with all of them and miss them all so much. It was very different being home this time, Molly was finally old enough and able to just run off with all of her cousins and do the same things they were doing and we didn't have to help her do everything and worry about her the whole time. But then we still had another baby to take care of and hold. Well I don't think we held her much, she was too busy being loved by all of her aunts, uncles, cousins, and grandparents. We decided that while we were home we would use it as an opportunity to bless Annie with all of our family. Since my dad is the bishop we did it in my parents ward. It was a beautiful blessing. And to add to it all, once my mom found out, she made Annie a dress in less than one day. It was the most beautiful and perfect little white dress ever. Thank you so much mom, I will always treasure that and am so glad I will be able to pass it down to Annie for her own daughters. So we do apologize because this post is more words than pictures. I guess we were too busy having fun, because other than the blessing we didn't get any pictures, to prove we were home and show how much fun we were having. So here are some pictures of what we did take though. Enjoy.
Our very beautiful and perfect little Annie Eliza Oyler. Isn't she so adorable? Yes we know she is.
Here she is with her name sake. Her middle name is after Jake's grandma's name.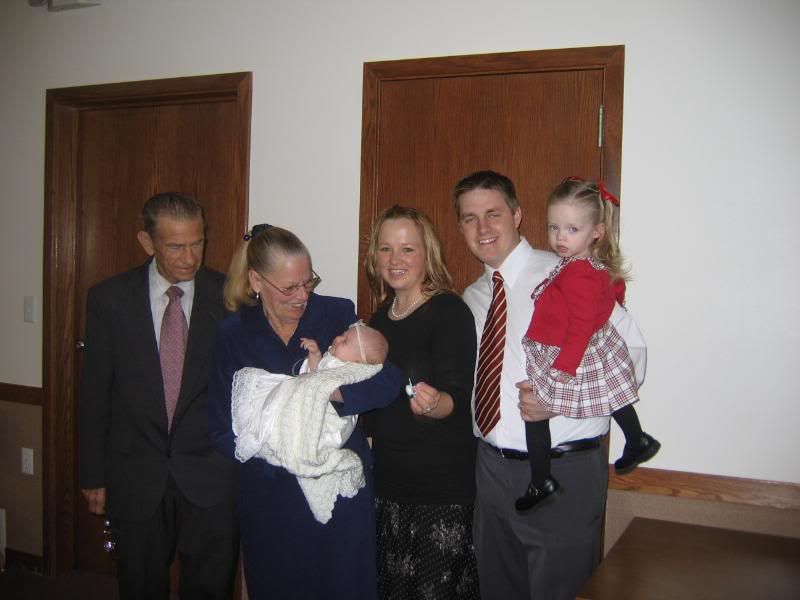 Annie and her proud parents.
I love this baby and can't get enough of her.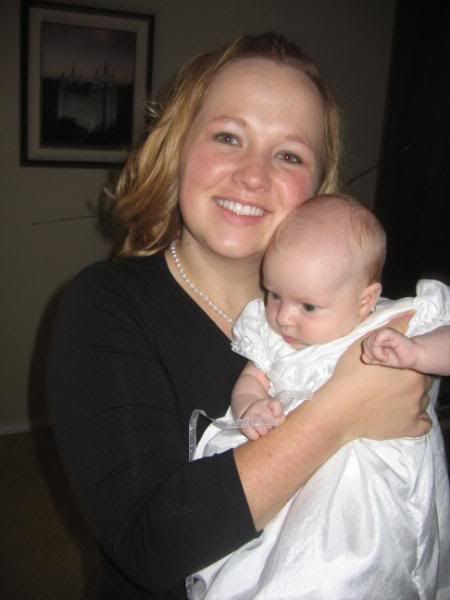 Daddy's little girl.
Molly and Annie, for some reason we can never get them to look at the camera at the same time. Hahaha.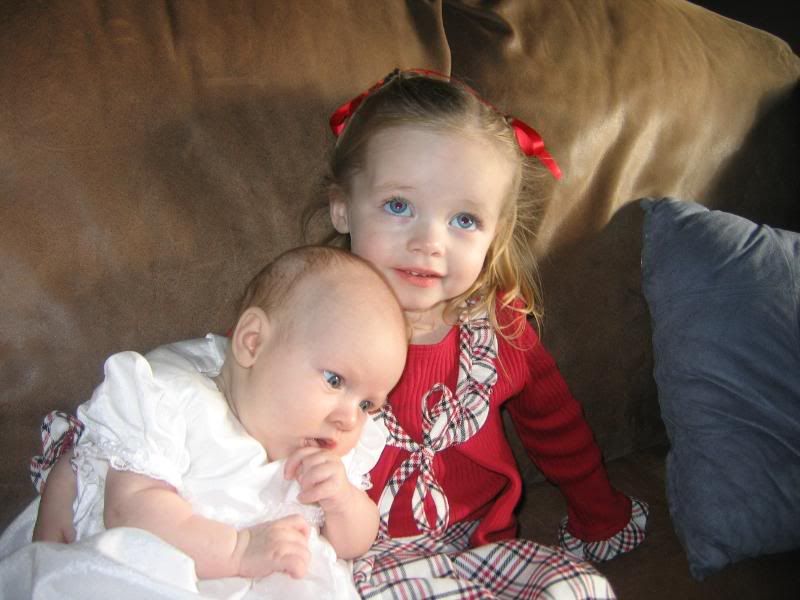 Well we are very glad we got to go home and see our family and some friends. We are very excited for Christmas and are sad we won't be sharing it with them also. We love all of you and want to thank you for making time for us while we were in town. Love you all.