Well we are back to real life after the holidays and we have been busy as ever. Although we are only in the first month of the new year it has already been a very eventful year, as I am sure the rest of the year will be too. Jake has had to go out of town alot, well more than I would like him too and the girls are both learning new things everyday and getting so big. Here are a few pics of our year so far.

This was the mess left from our tree this year. This is the first tree of ours that has been this dead by the end. And I would say this picture doesn't really even give justice to what it really looked like. Don't worry I only clogged up the vaccumm two or three times trying to clean it up and we only find an occasional needle here and there now. I still think it is worth having a realy tree I just love them.

This is our one picture we have from New Year's Day, and as you can tell from Annie's espression it was a wild and exciting night of partying!
On the 8th was our nephew Hayden's Birthday and on the 10th was our other nephew Payton's Birthday. For about a week straight after telling Molly this, she sang Happy Birthday to both of them all day long very loudly. On Payton's birthday after calling him and telling him Happy Birthday Molly said she wanted to go to his party and eat his cake. I told her we wouldn't be able to and she cried and cried. Later that day I caught her in her room playing "Birthday Party" with her dolls. And then she asked if we could have a real party for them. So we made hats and sang Happy Birthday all day long. Here is the group photo. Left to right: Sydnie Campbell (her doll Santa gave her), Molly Jane and Baby Josie.
This month Jake and I were able to go on our first date since August. We have made an arrangement with some friends to switch off weekends so we will have two weekends a month to go out, Yay! We also celebrated our 4th Wedding Anniversary. Can you believe it? Time flies by when you are having fun. So just to remember that amazing day 4 years ago on January 15, 2004 I thought I would post some pictures.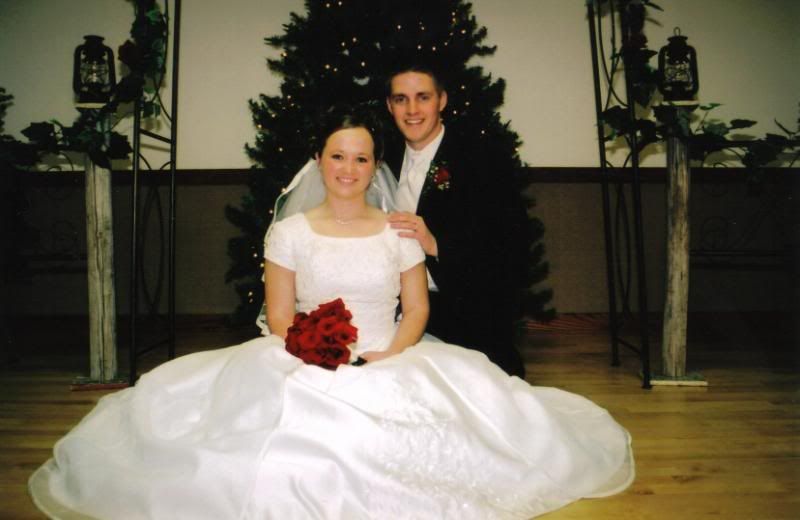 The Happy couple on their big day!
And now for our biggest news of the month.....We bought a house! And we are really excited. Here is the front of the house. I will post pics of the inside later, I promise. We will be moving in sometime between Feb. 21st and the 26th. So now you all have an even bigger excuse to come and see us.
And now for your pure enjoyment a few pictures of the girls just because they are so darn cute and we know you'd be sad not to see any of them.
This is how our sweet Annie sleeps alot. Aren't her hands and feet so cute?
We also had another really exciting thing happen. Jake's sister Stacy had her baby one January 18th. They named her Claire Lucille Cardon and she is so adorable. We can't wait until we get to see her some day. Congratulations Cardons!
We love you all and miss you so much and look forward to the next time we get to see you all.