Hannah and I were talking and we quickly realized that the past couple of weeks there were a lot of firsts for us and our family. The next pictures will take you through those.
First, was Annie's first Valentine's day, and boy, did she love it. We just filled her full of candy and sweets all day (that's a joke). But she did get to wear pink...I'm not sure how you can make it more exciting for her. You can at least say she looks happy...right?
Next, this past week was Molly's first trip to the dentist. As a father, I can confess that this is one of the scariest things you can do. Is your kid going to be the one they have to tie to the table (I'm not sure they actually do that in this country any more, but you know what I mean). Never the less, my fear were quickly set aside. I didn't know kids could be as good as she was. I think she would have sat there all day with her mouth open if you wanted her too. Not a tear, not a scream, nothing but smiles and laughter. When they told her to stick her head in the "
rocket ship
/x-ray machine" I think they she believed them. As her father, I wish I could take credit for it, but to be "tooth-
ful
" I think Molly is just a good kid. To put it in the same word's the dentist used, "she was the best 2.5 year old we have ever had."
Annie reached 4 months which means she is on to solids, and she loves them. What ever she can't get in her mouth she licks right off the tray.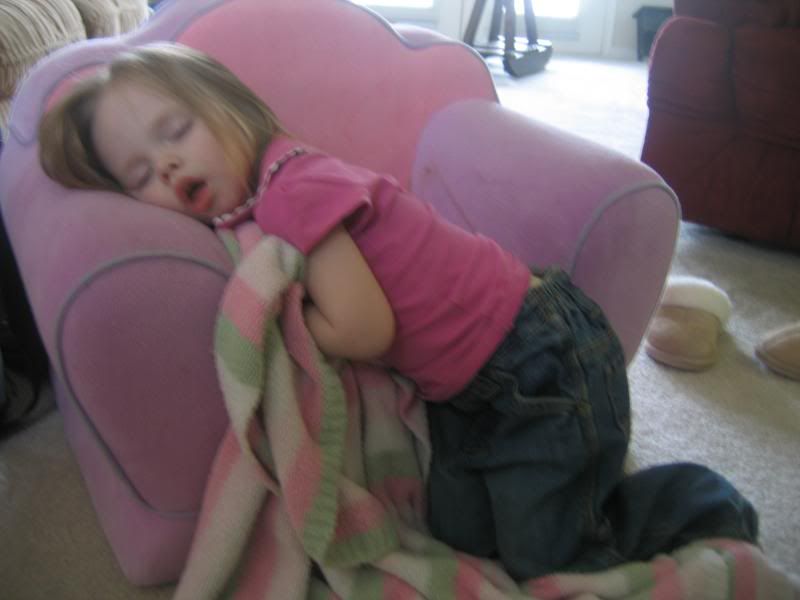 Molly will go to sleep in three places: on our laps while rocking, in her bed, or in the car, but never....NEVER has she just fallen
asleep
while watching a movie or at the dinner table so finding her like this was certainly a FIRST!
Here is Molly and her friend Maria playing the
Wii
together. Molly has played the
Wii
before, but never with someone she can compete with. They were pretty cute to watch.
Hannah was referred to as "4-eyes" for the first time in her life. Yep, as she has gotten older she has noticed her vision has slipping so we got her some glasses. If I can say so, I think she looks pretty hot!
And there is one we don't picture of it, but Annie did roll over for the first time. It has only been once from her
stomach
to her back, and once from her back to her
stomach
.
And our last first is that on Wednesday we will officially be in our first house. Now that is an amazing first. We will keep you updated on how we like it. Keep reading below because I have
some more
pictures of the
fam
.
Just a silly picture of Molly.
Annie loves admiring herself in the mirror. Here is a fine example.
Here is Molly on
Valentines
day, with her new "glamorous"
jewelry
and bubbles.
Here is another picture of Molly on Valentine's day. Notice all of the hearts we cut out to put on the wall. We told her to spread them out, but this was as
expansive
as she could get.
Here
we are on Valentines day taking after the tradition of my sister and making a heart pizza...yum...heart pizza.
Here is a picture of Annie and Molly hanging out. It's so fun seeing them together. Annie things Molly is the funniest thing in the world. All Molly has to do is walk towards Annie and she will start laughing her face off (not literally, for those concerned), and any other time, she can't take her eyes off of her.