As many of you know, I work for a really great company called Savage. Don't feel bad if you have never heard of them. I only learned they existed a little over a year ago. Since joining them, I truly feel fortunate to be a part of such a great organization. Lots of companies say they care about their employees and will always do "what's right," but those are words Savage lives by.


As an example, each year Savage holds a managers meeting in some great city in America. The best part is that not only is it all inclusive, but you get to take your spouse. Yes, there are a few meetings here and there, but we spent a lot more time out of meetings, than in them. This year it was in New York City. We couldn't have been more excited since Hannah and I haven't had a day away from the kiddies since we moved away from Utah. So, off we went.


Here are some pictures from our trip. You'll have to forgive us that there aren't any of our kids in these pictures since they are the reason why most of you come to our blog. You will also have to excuse the fact that each picture is mostly filled with our faces. We didn't want to bother other people so we just took the pictures ourselves. Here we go:
This picture is out of order because this actually happened on the last night, but they have a big awards dinner and all of the new managers are given a manager's ring and they have to stand up in front of everyone and yell, "I commit." Meaning you commit to the Savage values. It's a little cultish, but it's all just part of working for the man.

Talk about bad luck. I've been in New York for 5 minutes and a piece of my pasta falls right onto the only white part of my shirt. Can you believe it?
They took all 400 of us on a bus tour through out the city. It was a little boring, but nice because they showed us a lot of things we wouldn't have known otherwise. We stopped at Central Park for a few pictures.
I've always had a little bit of a rebellious flare. This is me standing on the grass, right in front of a sign that says, "Don't Stand on the Grass."
I'm born to be wild.
It's my goal in life to make Hannah feel embarrassed and uncomfortable so this is me making her stand under some vines. I asked her to pretend to be a jungle animal, but this is the best I could get out of her. The look she is giving me is the, "Why are you making me do this," look.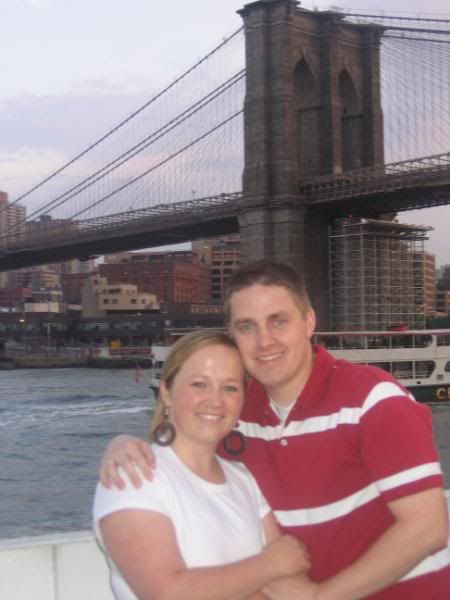 The first night they took us on a really nice dinner cruise. This was something we always wanted to do, so we loved it. It was way to see all of the sights of the city in a whole new way. Even though it was the middle of June, it was freezing out there.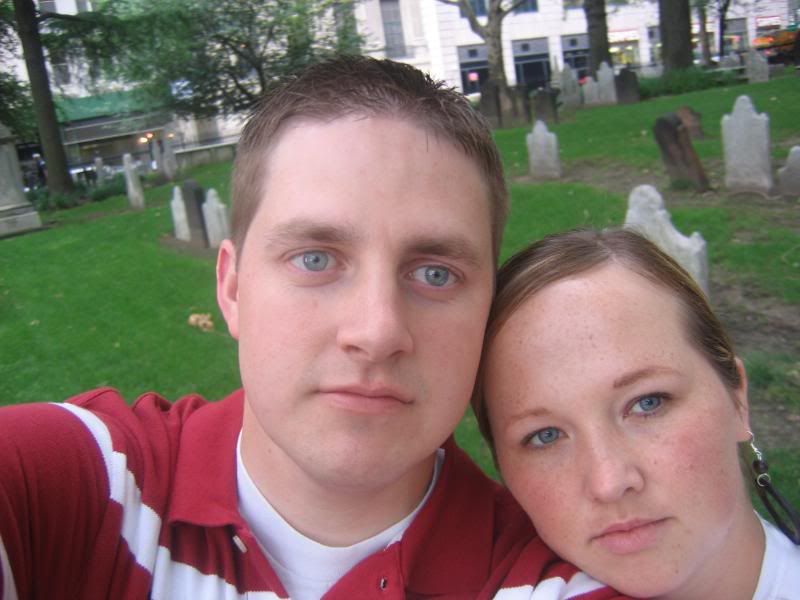 On the bus tour we stopped at this old church. We were told it is the same church George Washington took his men to pray. We wanted to take a picture of the cemetery but decided it wouldn't be polite to smile, so we are looking somber.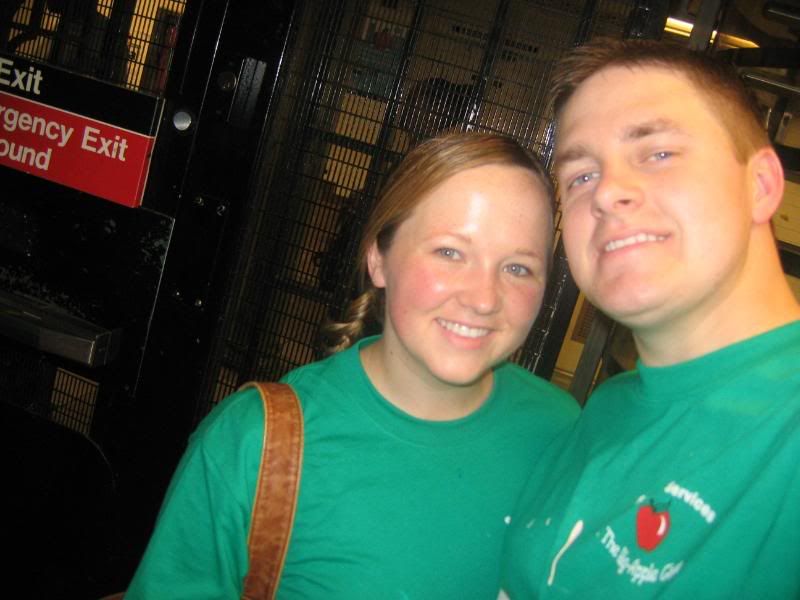 Savage incorporates a service project into each manager's event so this year we were divided up into 40 teams of 10 and given $1000 and told to go and do some good. So, my group arranged with the Harlem hospital to paint the waiting room to their Children's Psychiatric hospital. It was fun to be a part of this, but even after we were done, we really felt like we wanted to do more.
I think I was the only person who left with paint on them, and I was covered in it.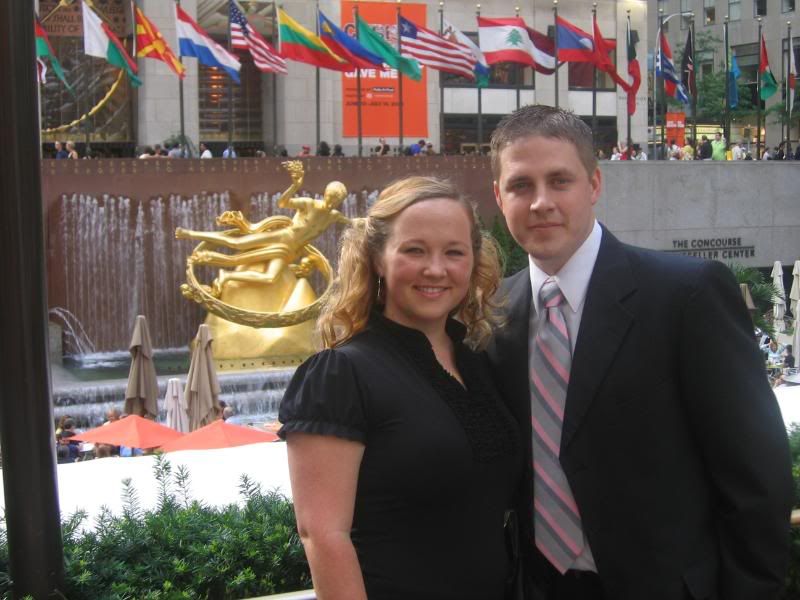 Here we are in front of the Rockefeller center. Man, we are a good looking couple.
That night, they treated each of to a Broadway play. We went to the Little Mermaid. It was absolutely fantabulous. I will admit, I was afraid I as going to be disappointed, but it really was amazing. We only wish our Molly could have been there to see it.
Before the play the Managers/Spouses met in the Rainbow room on the 64th floor of the GE Building at the Rockefeller Center for dinner. We ate some pretty weird things that night, but I think the weird looking stuff tasted better than the normal looking stuff.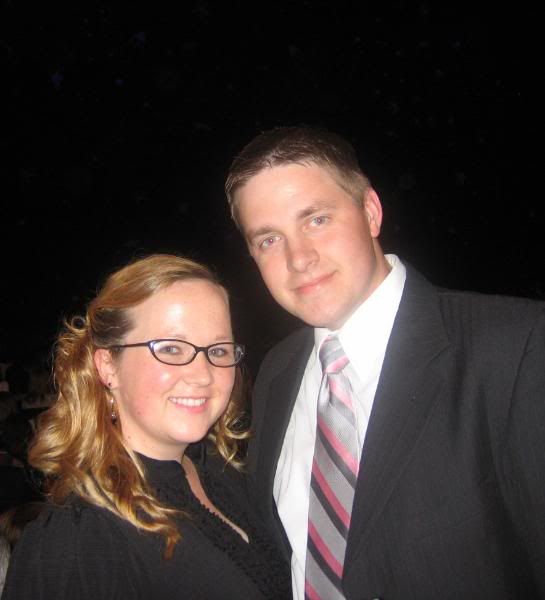 Here we are at the play. Whooo, my wife is hot!
Yum, Chocolate.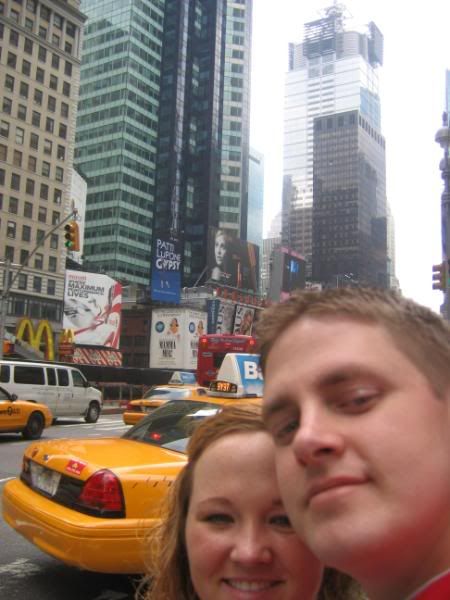 Here we are in time square.
We had a few hours on Saturday before we were to leave for the airport so we took a subway across town to walk through the Metropolitan Museum of art. By the time we made it there we realized we only had about 1 hour to do the whole museum and the $20 price tag (which I later found out is a suggested donation, not a must) scared us off. So, we still went to their gift shop, bought some magnets and went and sat on a bench in Central Park. Hannah took a picture of this guy walking and playing the ucalayle (aka a Banjo, ha ha, inside joke). Weird.
Anyway, we made it home on Saturday night and there was both of our children as anxious as ever to see us. It was such a warm welcome home and we missed them so much. Molly even "surprised" us when we came through the door and then kept running from Hannah, to me, and back to Hannah giving us hugs and kisses. It was so nice knowing we were missed. We missed them a ton, and a ton. She then insisted she had her picture taken with her Little Mermaid Sea Shell Purse, she was very excited about it, even though I think she was more excited about the M&M we brought her from the plane and the $3 umbreally we bought when it was raining in China town. Kids are wierd.
We really need to thank Hannah's mom, Lynda, for flying out and staying with our babies. We could never thank you enough.
Peace out!