For people who don't go anywhere, we sure go a lot of places. It's been a busy month and I wouldn't even call it the busiest month of the summer. Below is our month in pictures. Enjoy!
As you can see by the look on Molly's face, this was a fun month. We did a ton of really great things.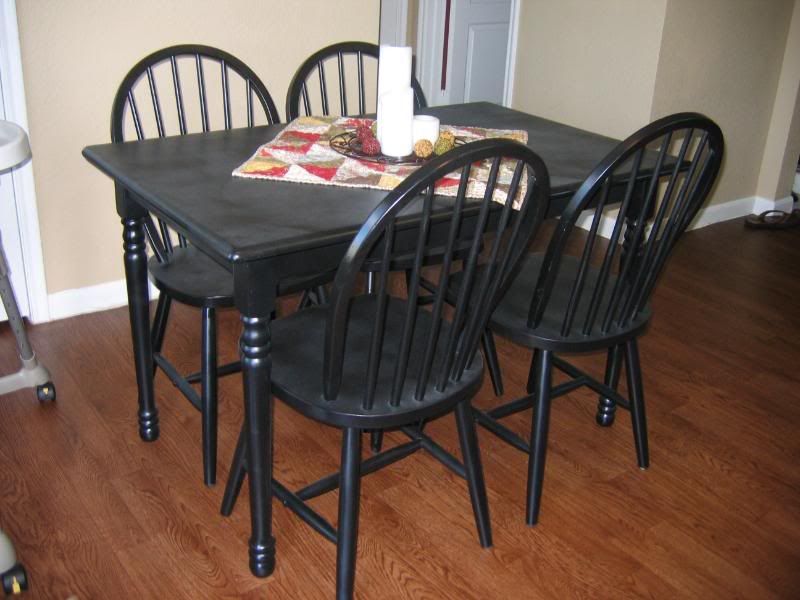 Hannah crossed another thing off of her home improvement list by turning this old hand-me-down table (Thanks Glen & Lori) into a hip and trendy table that goes right along with the look of our kitchen. We figure we can get a few more miles out of the old gal.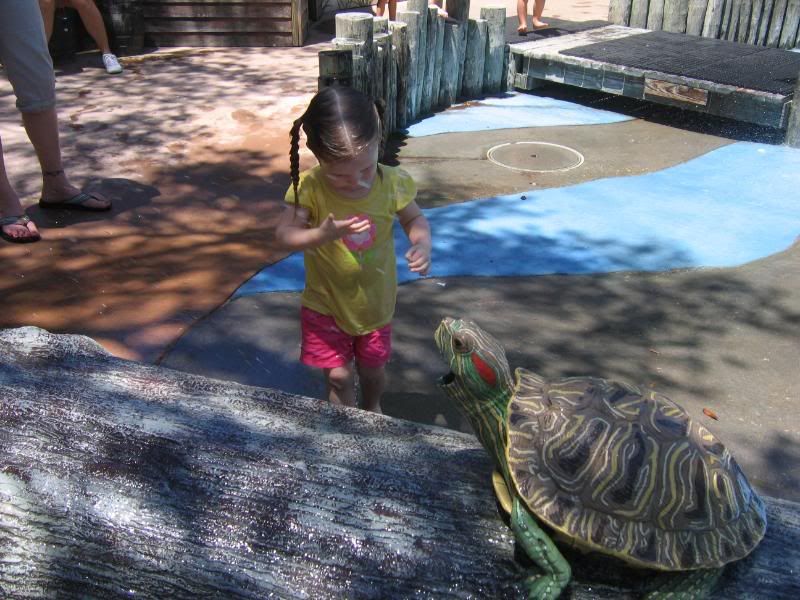 We are getting a lot of use out of our zoo pass. Hannah went with some friends in May and we finally let Molly partake in the water park. She had a
slammin
' good time...that's right...
slammin
'! (That's not a real turtle)
Molly asks nearly on a daily basis to tell, in detail, about all of the holidays. Memorial Day is known as the day Daddy gets to stay home for work, and that's pretty much all we did...an of course we
BBQed
.
Molly and Maria looking at the
Giraffes
Wet and Wild fun at the zoo.
We went to another
Astros
game. As you can see this picture was obviously taken before they
started
losing, because we are smiling. Don't worry '
stros
, we still have faith in you.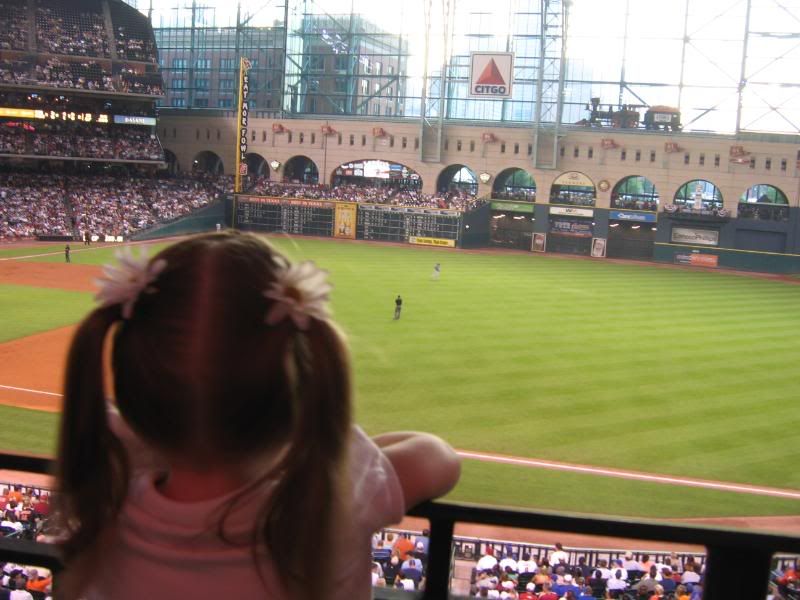 Molly enjoying the game. I love having a daughter that loves baseball.
We were on a drive the other day and ran into a drive-in theatre. The double feature was Indiana Jones and Iron Man, so we couldn't pass it up ($5 for 2 movies). A couple of people we know made fun of the Drive in Movie theatre in
Morgantown
(Brandon and Tanner) and said it looked like they hung a sheet up in the middle of nowhere (
see here, almost at the bottom
) and so we thought we would see if this was better.
Our plan was to make sure Molly was exhausted so that she would fall asleep on the way and then we could make her a bed in the back as we watched the movie...and it WORKED! Until the second movie started, then she was wide awake. So, we were bad parents and let her watch Enchanted on her on mini-DVD player at 12:00 at night. I know, I know, someone call Child Protective Services.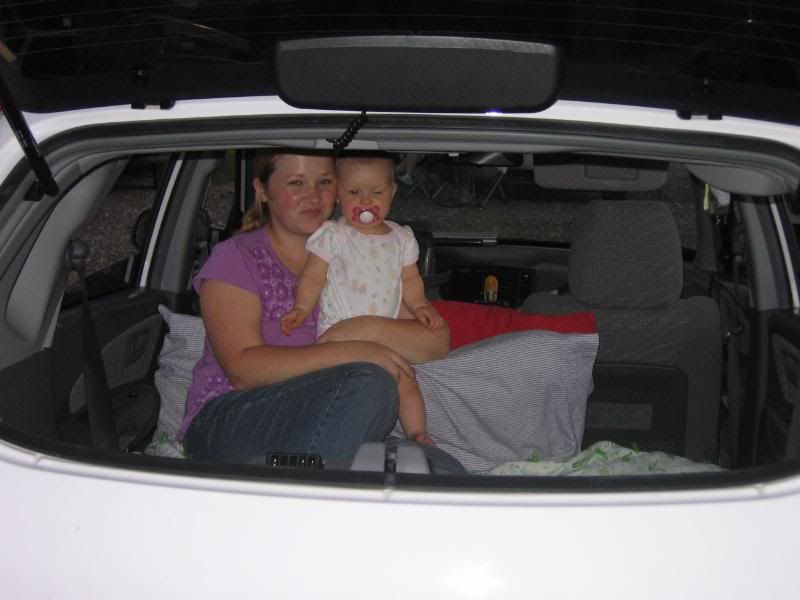 Annie, on the other hand, did not fall asleep until the second movie started, but she got a kick out of hanging out in the back of the car and climbing all over mom and dad.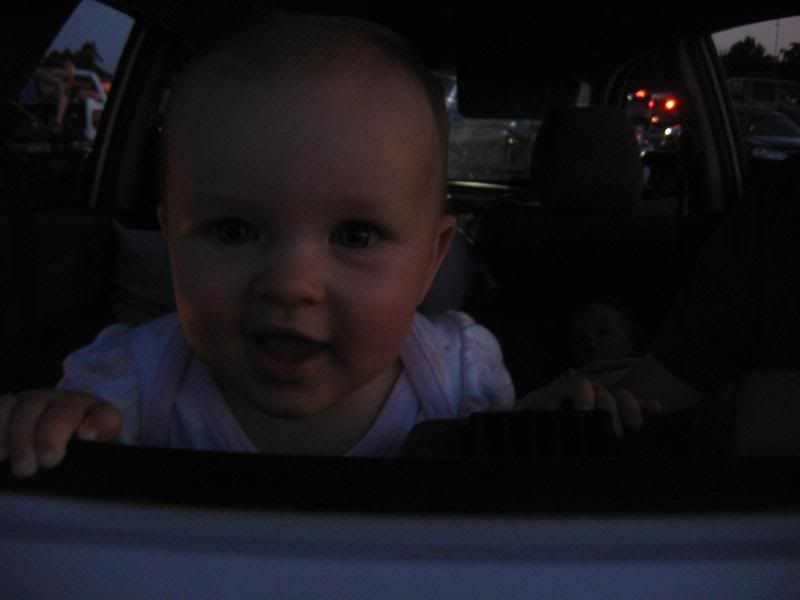 Here she is, waiting for the movie to start.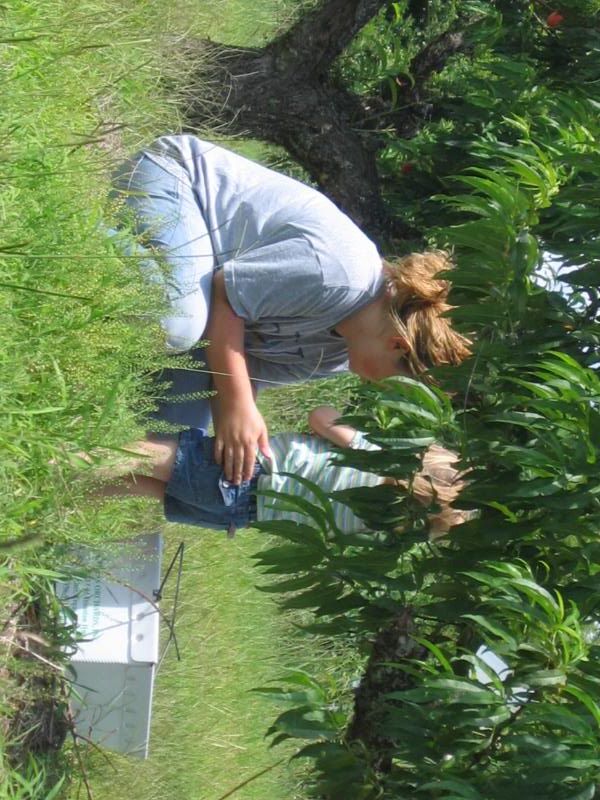 Earlier that day we drove to the country to a peach orchard that had
peaches
ready for the picking. They were some pretty good peaches. Smaller than any other peach I have ever seen, but really good flavor. We had a lot of fun.
Dad and daughter stop for a
moment
, to
talk about
the meaning of life. Isn't it about...time...this message was brought to by the....uhh...just kidding
Cute. Sorry Ladies...he's taken.
This is what Annie did the whole time we were picking
peaches
. She is so lazy....
haha
.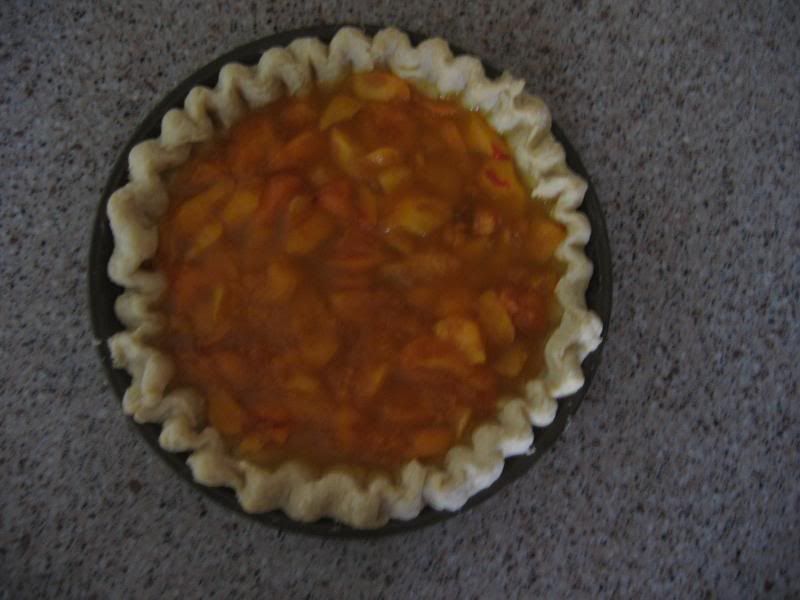 This was the Fruit (
haha
) of our labors. A delicious peach pie made by my delicious wife. It was so good.
You
missed out.
I had a business trip to Baton Rouge on
Thursday
and
Friday
. Since the trip was
within
driving distance and backed up to the weekend I thought the family
should
come along, and they did. Hannah kept herself busy by going to the zoo here (our zoo pass gets into here for free too). She said the girls had fun, but it was a funny zoo because chain-link fences like the one above was the only thing that stood in between you and the animals (Ever wonder how that tiger got a hold of that person last year, it's because of zoos like this).
Molly in front of the hotel fountain.
We drove down to New Orleans on Friday night and stayed in this little Boutique (not sure why it's called a boutique). It was not a typical hotel room. Very old
fashioned
, very high ceilings, and very interesting.
As her father I feel it my duty to put the most
embarrassing
pictures
of her on the blog. I think she is excited to go swimming.
Here is me and the daughter down at the french quarter getting ready to
partake
of some
delicious
southern/french food. Mine was delicious.
Although
I wouldn't tell someone to plan a specific vacation to go to New Orleans I would tell you, that if you are ever in the area you should go see it. It's unlike anywhere else in the USA. It's like you are stepping into another country...the buildings, the foods, the smells, the people. It's a pretty unreal
experience
.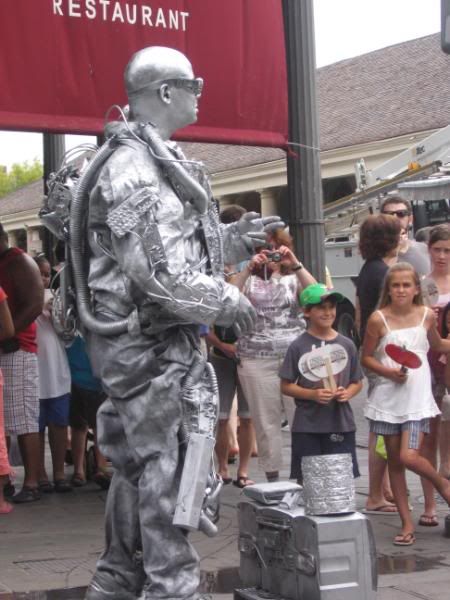 A street performer. All I can say is I was wearing shorts a T-shirt and was leaking like a
sieve
. This feller in the winter coat, well (insert some
analogy
about ice melting really fast), and that is what he was doing here.
Everywhere we went there was cool exposed brick like this, so we tried to have a mini, on-the-spot picture session. This is the best we could come up with for the girls so it lets you know how that went.
Here is Miss Molly.
Annie is always good for a smile.
Well, as you can see, these past few weeks have been
exhausting
. Almost as exhausting as this post. Take care everyone and check back soon for a gazillion more fun things we will be doing this summer. We love you all.