Well since we have been back from Utah, time seems to have flown by. I don't really know what we have been up to but its been crazy! We got back the night of July 3rd. We were so excited for the 4th of July and could hardly wait for all of the fun. Well we got to bed late that night and Annie and I were starting to get sick. We woke up late the next morning so we missed all of the parades. And then we just slummed around most of the day. Later that afternoon we went over to some of our favorite friends house and we went swimming, ate a lot of delicious food and hung out while the kiddos played together. We left to try to make it to the fireworks and by the time we got there, both girls were asleep, (Molly was sick by this time too) we all felt awful, so we just rented a movie and came home and watched it. Sort of a lame 4th for us (only because we missed the parade and fireworks that we love so much and we were all sick). Thank goodness the Swanson's invited us over and provided lots of fun or else we would have been big losers. I don't really know what else happened in July. But keep watching for upcoming pictures of Oyler Birthday Extravaganza Week coming soon.
Mol in her awsome sunglasses aunt Melissa gave her while visiting her office. Thanks aunt Mel!
The girls swimming on the 4th of July.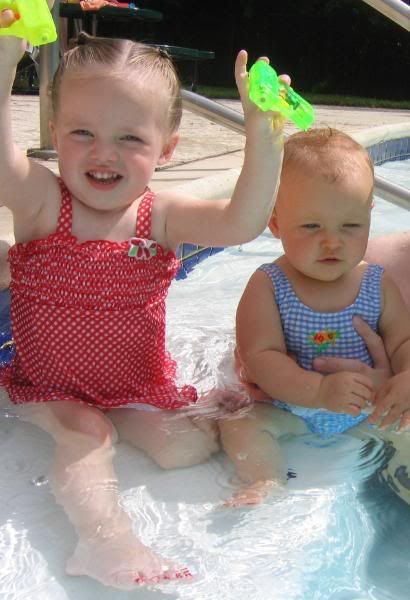 Molly in her totally rad 4th of July crown her nursery teacher made for her. Her new thing is to try and look grumpy in pictures...I just think she looks cute.

Annie's first 4th of July, sporting a super cute hat and sunglasses compliments of Grandma Lynda.

We did head to Lousianna again right after we came home. Jake had more work there and since we were all sick I figured we might as well just be lounging around somewhere else and at least we would get to see Jake in the evenings. Looks exciting huh?
Annie with her first little piggy's. Oh my gosh she is adorable!
Just looking cute here
I just though this picture was really cute and I can't believe the resemblance to her cousins.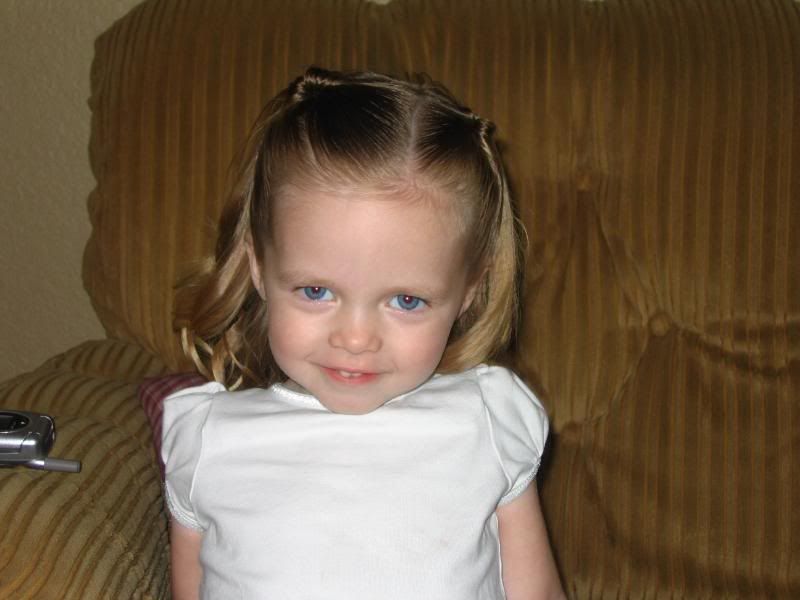 Annie has begun to find her nose and ears as well as other peoples too. She likes to grab a hold of them nice and tight. Here she is showing Jake where her nose is.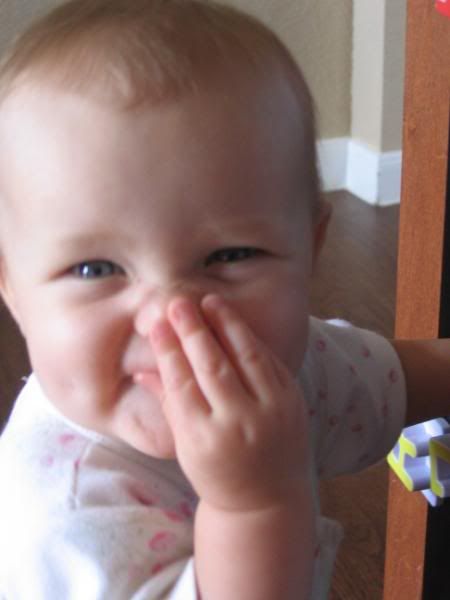 Stay tuned for Birthday pics coming soon.