WARNING: Picture overload ahead. Continue on at own risk.
Well we have had a full and busy summer. Sorry for the delay in pictures, but we have not had any internet until now so hope you enjoy even though they are later. The day after Jake and I returned from NYC, the girls and I flew to Utah with my mom. We headed to Jake's families for the first few days and were able to see all of them except Stacy's husband Nathan. It was a lot of fun and we were so glad they all made time for us in their busy schedules.
Here is Molly and her cousins taking a ride with Grandpa Golfball out at the golf course. Mol wasn't so sure at first but warmed up real fast, especially since Mia was kind enough to hold her hand
Here are all the grandkids on the Oyler side...yup 6 girls. Who needs boys when you make girls this cute? Right.
Molly showing off her "small" bag of candy Grandpa gave to her. (each girl got their own) He sure spoils them and Molly loves every minute of it.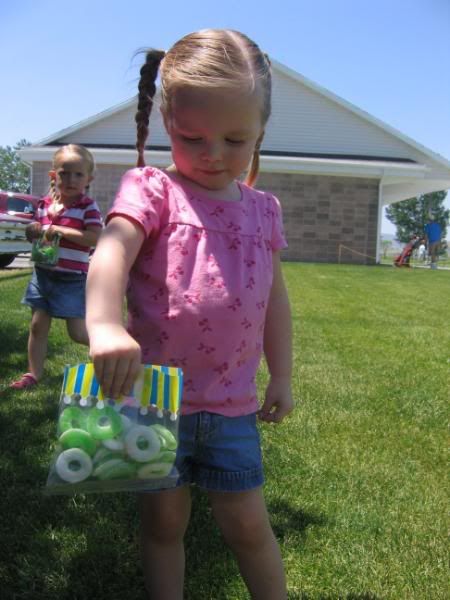 Annie getting to know her Grandma Jill a little better.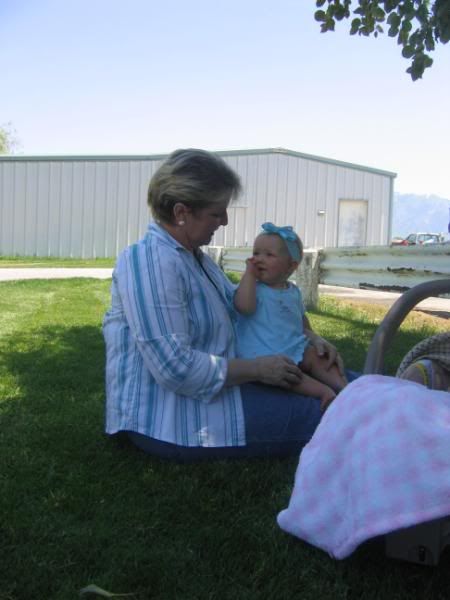 It took Mals and Mol a little while to warm up to eachother, but once they did they were pretty darn cute.
Annie's first real time sitting on the grass, of course she isn't in this picture, because she could barely stand it and wouldn't leave the blanket if her life depended on it.
The first night visiting my family all of the sistas went out on the town. We hit up Firehouse (yum!) and Smith's Marketplace, which I believe is the only store open in Logan after 9. It was so much fun though and I miss all of you girls so so much! The little girls all stayed home with Grandma and had a Pinkalicious Princess Party, Molly loved it all.
I got the pics out of order but here are the girls saying goodbye to Grandma Jill in adorable outfits she gave them. Thank you.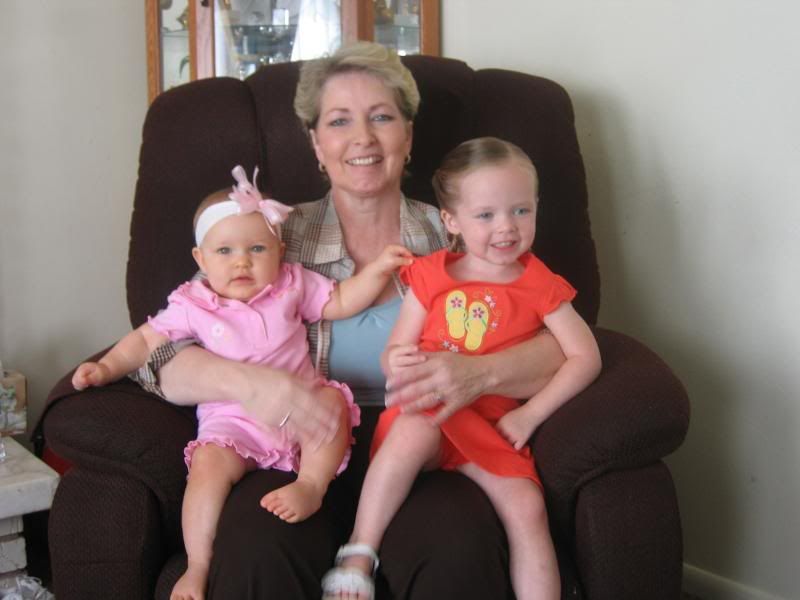 Here is my sister Holly and I. I put this picture on because it is the last decent picture I have of me with my hair long, it took me 2 years to grow it out and then off it came.
The next day we headed to Bear Lake. It was so much fun and the kids all loved it. Its nice cause the water isn't deep at all and there were so many helping hands I ended up barely having to watch my kids at all. Grandma Lynda worried enough for all of us. Here is Molly spraying someone or something I am sure.
I let Mindy give Annie some RedVines and boy did she love it. I practically had to pry the soggy remains from her hand.
Molly filfthy and happy after a day in the sun and a Raspberry shake.
Dirty and Happy Annie.
Annie with her Aunt Cassie. Its wierd this was the first time for the 2 to meet, seems how I saw Cassie so often while Annie was in my belly, maybe thats why they hit it off so great.
Oh Sweet Haylee... Isn't she adorable?
Holly and Mindy "pretending" to like one another
Molly loves the fourwheeler and her uncle Brandon. Strange to me how times change...who would have known my kids would love Brandon, but hey who doesn't right? I know I do.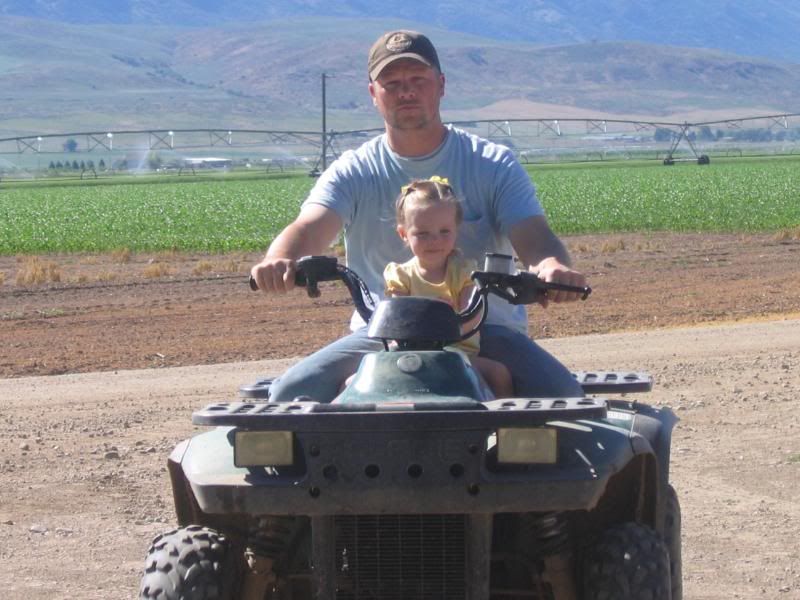 My bestest cutest little guy. Payton...Oh I could not get enough of this little guy the whole time I was home.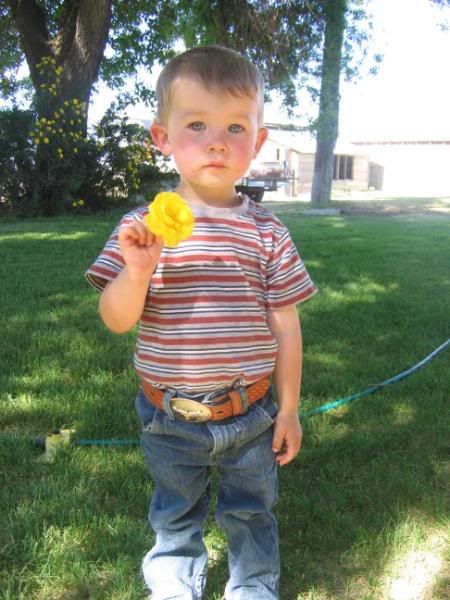 Mol and her best pal Jos playing together.
Annie and Alyssa...the greatest babysitter I know.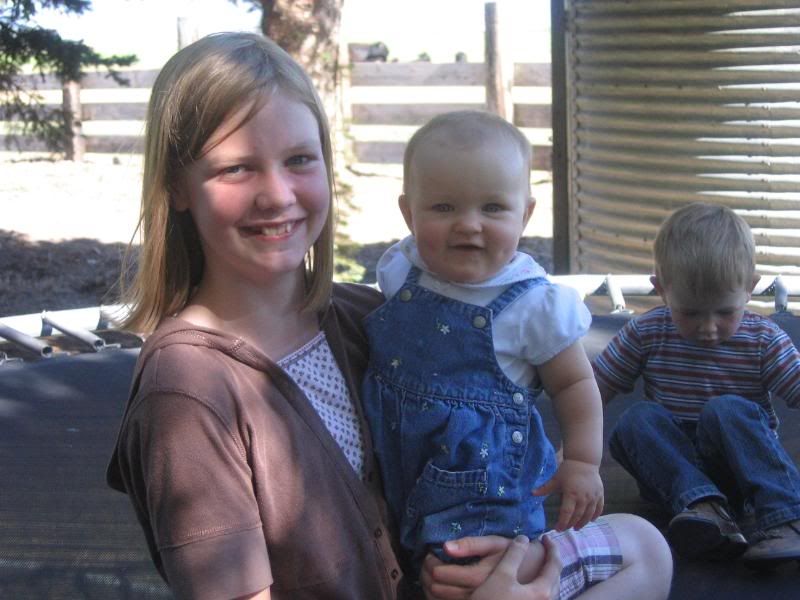 All the grandkids on the Smith side...I can't believe how big they are all getting.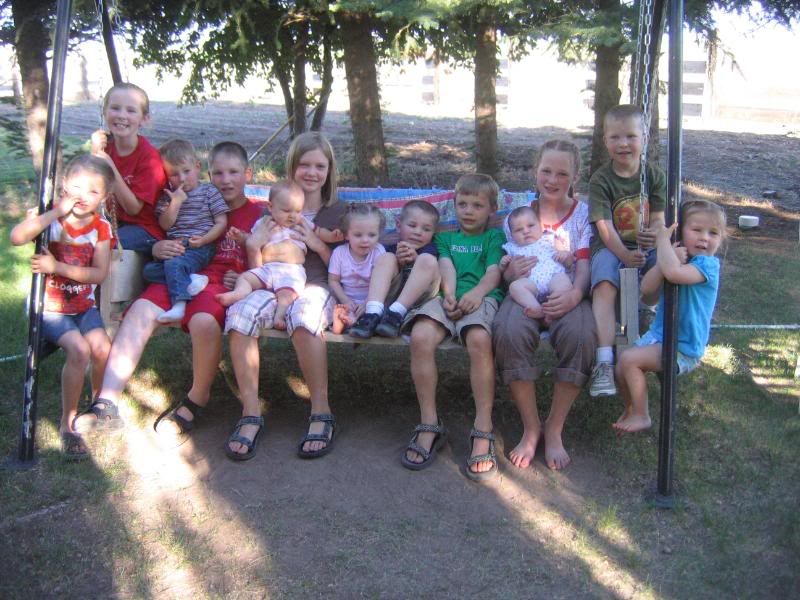 Best Friends!
I hate that these 2 can't see eachother every day...that would be a dream come true for Molly. We talk about Josie I would say at least 1/4 of every single day. No joke.
The girls wearing clothes that my sister and I wore when we were little. And no my family is not a polygamist family.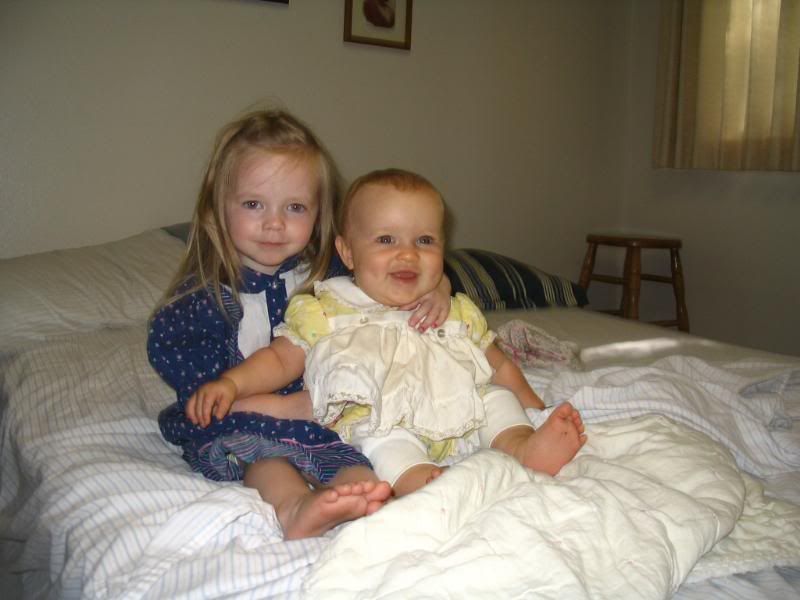 This is molly having to play on the tramp with older cousins........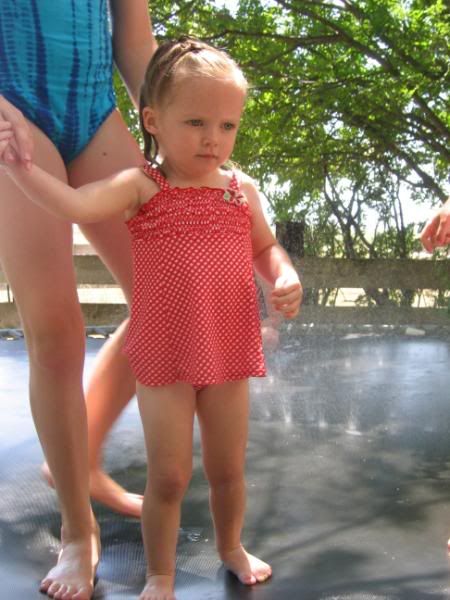 but give her a bucket and some water and space and she is one happy camper.
Could this be any cuter?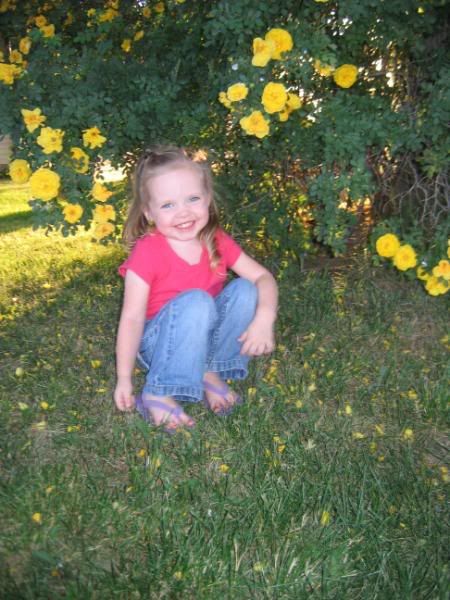 This was the first try at "Let's get a cute picture for Daddy."
I have a picture of Molly doing this same thing last year and boy I can't believe how much she has grown up and changed this past year...it blows my mind.
Super Cute
Molly waited and waited for Grandpa Lauritz to take her on a fourwheeler ride, so the moment my dad and a spare minute we got her on and she loved it.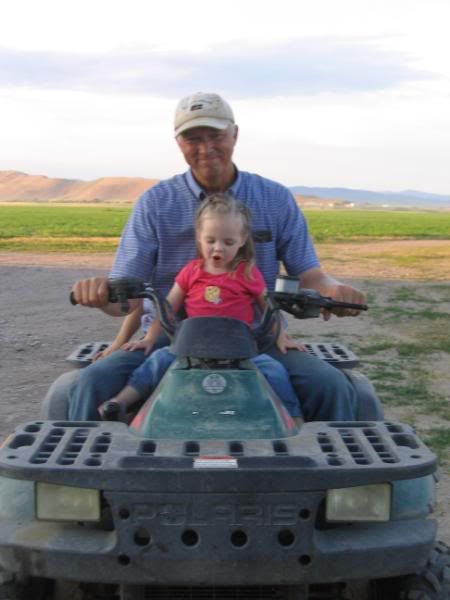 This trip was a little sad for me. I got to see all of mine and Jake's grandparents, which was really good, but bad at the same time. They are all really starting to age. But we did get pictures and I know we will treasure them always.Here are the girls with Grandpa Great Smith.
Me and my grandpa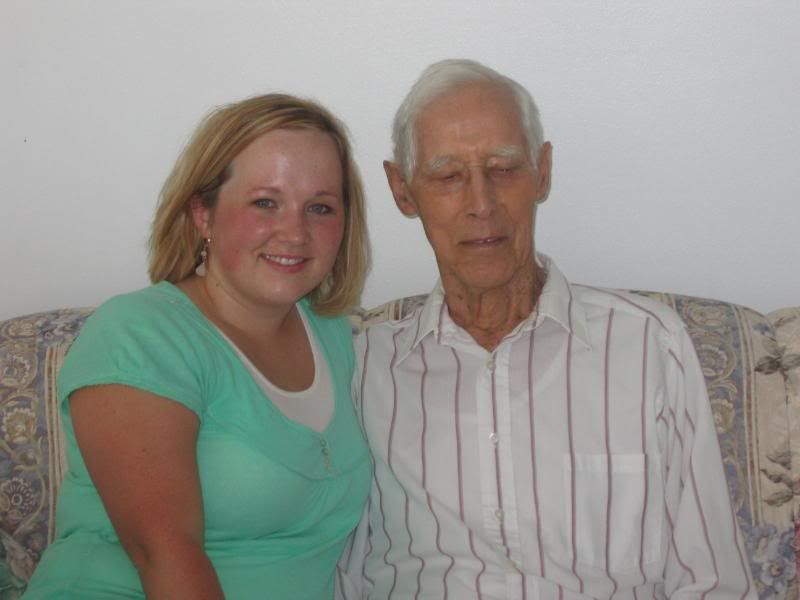 Annie and her Great Grandma Jarvis. Both of them are the only ones in our family to have been born in Texas....so of course they have a special bond.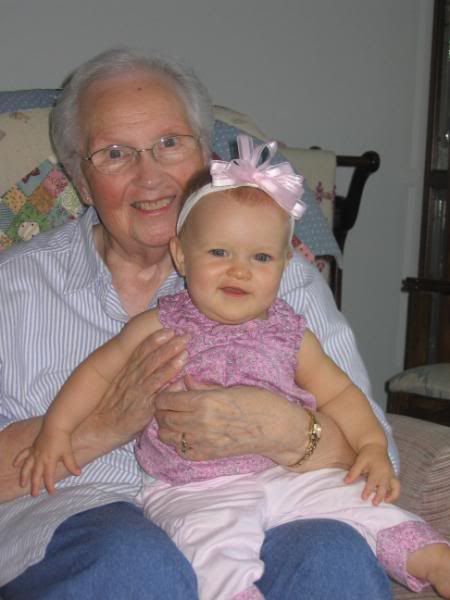 Here we are with both my Grandparents.
My sisters and I talked repeatedly about getting a cute picture together...and this is the best we got, all of us in our pjs, the morning Cassie was flying out. I love you all.
Haylee and Annie all ready for the 4th of July...Cute cousins.
I was so happy to be able to see so many friends and family. A bunch of my cousins and aunts and uncles all got together one night and it was so much fun to see them all. I wish I had some pictures of it, but I don't. But here is one of me and my dearest cousin and friend Hayley. Even though it was only for a moment it was so great to see you Hayley.
I was also able to see some of our bestest friends from Morgantown, the Pingles. It was so great to see you guys, we miss you all so much. I wish we would have had the time to see all of our friends, but as you can see we were already running around like crazy people. We were sad Jake couldn't come with us this time and we missed him so much.
I just realized I don't have one picture of my mom, alone, with me or my kids, but I just want to thank her so much for coming to watch the girls while we were gone, and for everything while we were at your house. You are the best and I can't thank you enough for all of your love, support, packages, notes of kindness and encouragement and especially your example. I only hope to be half the mom you were to me. I love you.