The day after we returned from our trip to Vernal Molly had her preschool graduation. This was Molly's first year in preschool and it was so wonderful. She loved her teachers and made so many friends. Molly was so good about going too. She would get up very early each morning and let me get her dressed and do her hair and was always so pleasant. She would be so tired some mornings or not feeling completely great and I would tell her she didn't have to go, but she always insisted. When we found out we were going to be visiting Vernal I told Molly that she would have to miss her last couple of days of preschool and she said she would rather stay with a friend and go to school. So we found someone she could stay with and left. We were very excited to be able to be there for her graduation especially her special award that only she received.

Here Molly is waiting for the graduation to start.

Here she is receiving her her award. Molly was the only kid in her entire class to have perfect attendance. I guess it was a good thing we didn't make her go with us. She was so excited and so proud of her award. We are so proud of her too. That is a big accomplishment.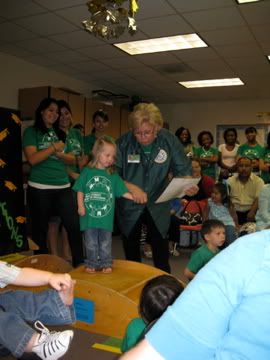 Making the walk with the special wand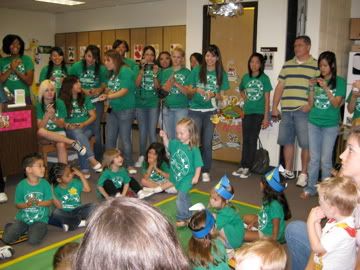 Graduate posing with her diploma.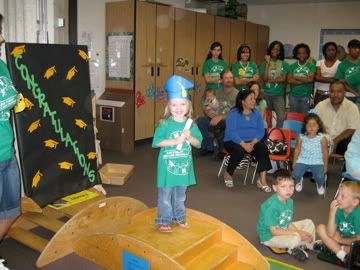 Annie excited to be able to share in her sister's accomplishments too.

Molly with her two best buddies. Lily and Lindsey. She misses these two so much.

Molly was so happy that we got her balloons.

Later that day we were lucky enough to have Grandma Jill come to visit us. Fortunately she had planned to visit us before we even knew we were moving and we were glad we were able to show her where we lived and part of our life in Texas. The girls loved getting Grandma all to themselves for a few days and we were all so grateful she took time to come see us. As soon as we picked her up from the airport we drove to Kemah Boardwalk, one of our favorite places.

Waiting for our meal at Babin's I believe. I wonder if there is anywhere in Vernal to get some wonderful and fresh seafood?
Sorry I didn't get many pictures of Grandma Jill's visit. I think my camera died if I remember right. Besides going to Kemah, we also played a lot, ate at Papasitos (yum I miss you so much you don't even know), shopped at Target, went to the Outlet Mall and just had a really great time. Thank you so much for coming to visit...the offer is still open to all of you, our family and friends...I know Vernal isn't as exciting at Houston maybe but we are here thats all that matters right?