Yes. We really are back! So I am sure many of you already know, but for those of you who don't, we've moved to Vernal, Utah. About the middle of May, Jake and I were talking on the phone while he was at work. Everyday I would ask him, "anything awesome happen today" and he would say "yes something life changing" well on this day he said, I really did have something life changing happen today. And I said what...he wouldn't tell me until he came home. But what he said couldn't have shocked me more. His company wanted to transfer him to Vernal to help start up a new operation. I could not believe it. We had been planning on being in Texas for at least a couple more years and here we were faced with the chance to live closer to family, and really close to my brother and his family who also live in Vernal...what are the chances?!?! Well long story short, Jake went out of town immediately after this for work, and as soon as he returned we flew up to visit and see what we thought. We liked it well enough and felt it the right thing for our family. So we made the decision quickly and said yes. Jake's mom came into town the day after we got back (pictures soon to follow) And the day after she left Jake left to start working in Utah right away. There have been some hard times these past few months, not being with Jake as much as we like to and were used to, but we have all really loved living here in Vernal. We miss Houston so much, especially all of our friends and our whole ward and our first house. But come on whats not to love about Vernal....and we are so much closer to family and have seen them much more in these past months than we had in the 3 years we lived away. Well here are a few pics as promised, and many posts to catch you up on our summer and lives soon.
The welcome to Vernal Sign....see? Dinosaurs AND so much more!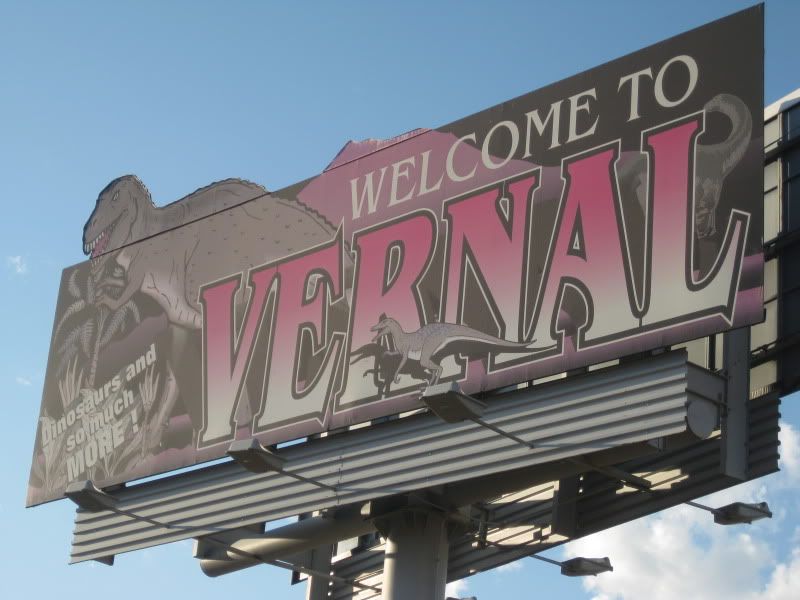 We really do like it here. Jake works way too much for our liking, but we are managing and we love living so close to Brandon and Mindy and their kids. We like our ward, we are happy there is a Walmart, Cafe Rio, Wingers and "so much more" here. Jake is now over hiring, and safety here and I think he really enjoys his job which is a good thing. The girls love that they get to see cousins, aunt, uncles and especially grandparents so often now. Well hope this keeps you all happy for a minute. Sorry nothing too exciting besides us moving thousands of miles from where we were and all that.