You say Escalantee, I say Escalatay, others say Escalant...regardless, we were headed there for a little Oyler family getaway. We rented a cabin for a few days in order to have some fun, eat some good food and take in the sites. The
cabin
was beautiful and big enough that the kids could do their thing, and the parents could do theirs. I loved being able to get away for a couple of days with my family after living away from them for a couple of years. Below are some pictures of what we saw.
We first stopped to see some old ruins. We paid our $10 to get inside and this picture pretty much shows you what we found inside...Not much! It was pretty funny. The kids had fun though.

This is Courtney yelling at me for taking her picture. I took it anyway. She is so cute... right?
We heard all about these caves called the narrows. We didn't got to them, but we did find this one that was about 100 yards long and it was perfect for us with all of the kids.
Here is Molly hanging out in her own little cave.
We found this little river that was only about 4 inches deep. The kids loved chasing the little fish and it was the perfect refreshment on a hot day.
One of my favorite places was the devil's rock garden. It really looked like someone played with playdough on the ground. It was easy to climb all over them. The only bad part was it took a really long time to get there on a really rough road. I think my family thought I was taking them to the end of the earth.
Here I am putting out the vibe...
The next day we went to Bryce Canyon which has to be one of my favorite places on earth. Here I am with the fam.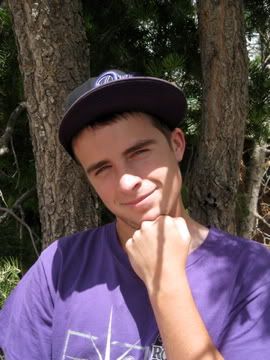 I have a new hobby. Photography. Here is my first subject....Nathan. This is his Senior Portrait. There is more where this came from.
Here is Hannah and my Sister Stacy at Bryce. Cute....
Thanks family for coming on our little getaway. I hope it wasn't to painful. I really loved it out there and I hope we do something like this again really soon.