Udaho...this is what the north-west part of Utah/ the south-east part of Idaho is often referred to by my bro-in-law. I think it fits quit nicely. So as I said previously since we already had a trip planned to come to Udaho we decided to go ahead with it. I know we did a lot more than I actually have pics of. I need to figure out how to steal pics off of other people's blogs, because my sisters have a couple I really want on here. I don't exactly remember everything we did so here are the few pictures I do have.

This is my nephew that lives in NC. We used to live by them while we lived in West Virginia and we miss them all a lot. As you can see Annie adored him too.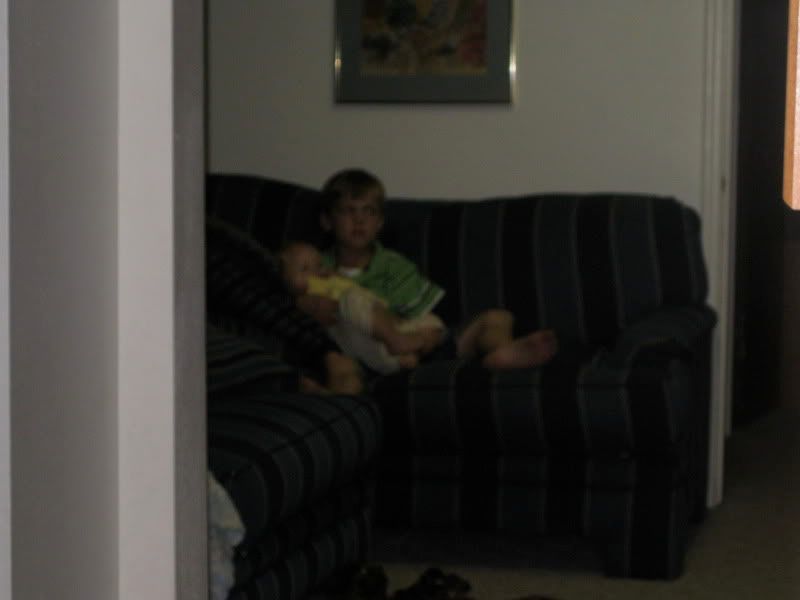 Playing on the trampoline with cousins...another favorite past time at grandma's.

Jeremy, Trey and Molly hanging out. We had a lot of meals out on my parents deck...I love their yard and deck.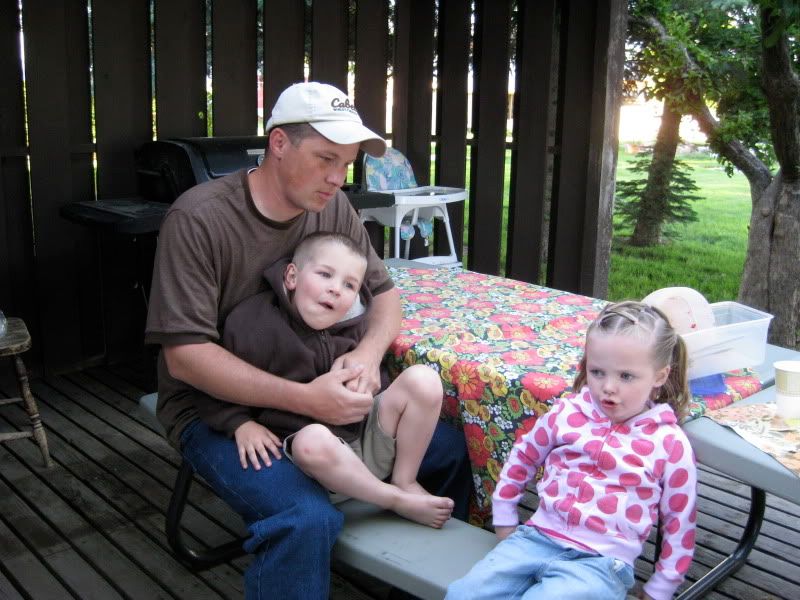 My super cute parents...I love them so much and am so grateful for all they do for us.

Tanner getting a homemade facial...haha!

One night we had a family baseball game. Some of us played, some of us watched, but all of us had fun.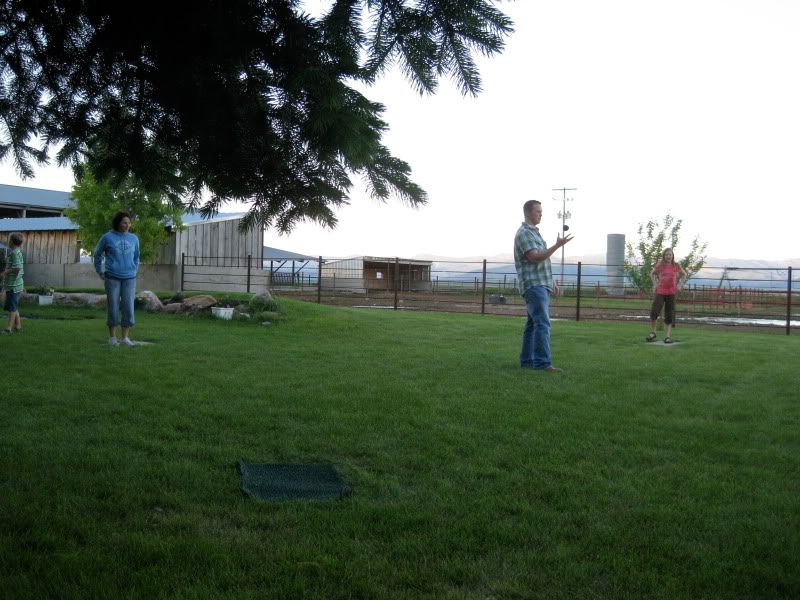 Jake and I organized a 5K this year. Now this is something that would normally never happen with my family but I think it was so much fun and something we should do every year. We also had the kids do a mile run. I didn't get to see the finish because I was one of the very last to finish, but I heard it was a tight one and came down to Jake and Brandon...who are both pretty competitive. Jake won. I was so proud! Everyone did awesome!

One of the reasons we all got together was to celebrate my Dad's 60th birthday! It was fun. My mom surprised him by having these awesome shirts made. Funny story though, my mom went to get them the day before and instead of a 60 on them they had an 09...the girl that made them thought they were supposed to say the year because she had been making a ton of graduation shirts and stuff. luckily the year coincided with the 60...so instead we add the ' on '09 and wrote happy sixtieth across it. We have some really fun pics of the whole family that I need to get on here.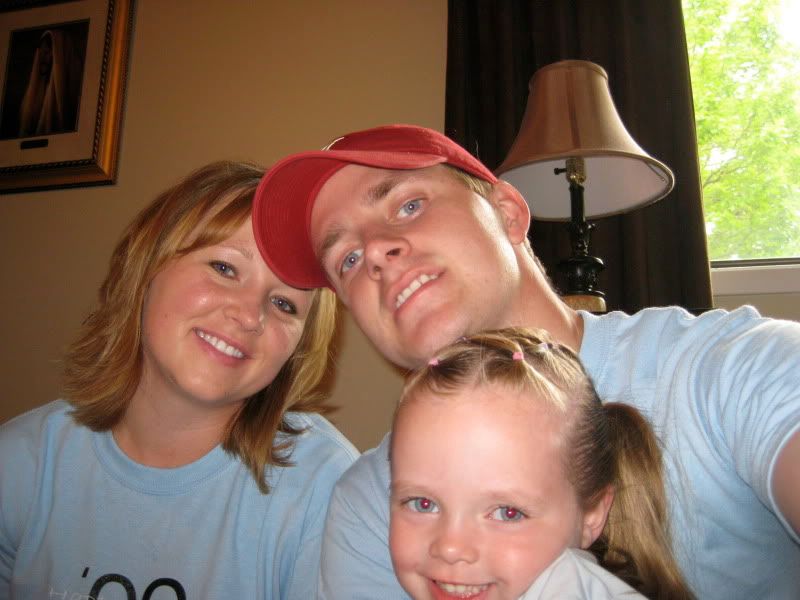 The girls holding hand while riding in the big truck.

One day we went to the coolest park in Logan. I wish I could remember the name, but I can't. Anyways, it was so cool and my kids had a blast. They had these misters to cool off in, I think Molly stood in one for over 10 minutes though and got soaked, I can't keep her away from water. I can't wait to go back there though.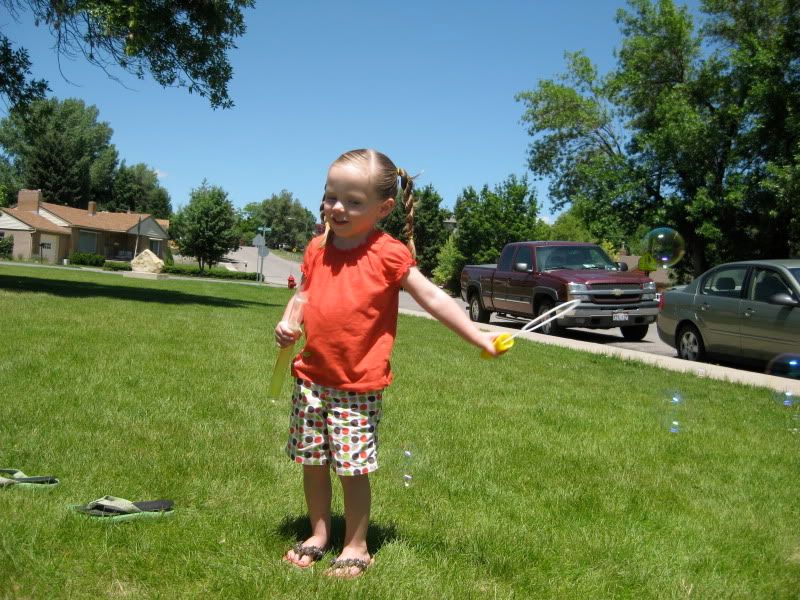 This is usually what Annie looks like at the end of every day...love it.

We couldn't pass up a trip to Pizza Villa...we also hit up the pig out there too.

So as you can see we played a lot with cousins, ate a lot, partied hard and had a whole lot of fun. I was glad that Jake was able to come for a lot of the time, since he was working in Utah anyways. It is so fun living closer to them all. Now if we can just get Cassie and Doug to move here also...:) A girl can dream right?