September just flew right by. We tried to take as much advantage as we could of the warm weather thinking it would be gone soon. Luckily we had a beautiful Autumn and were able to play outside a lot longer than we thought we were going to be able to. We spent most of the month getting used to having a new schedule here with Molly in school and getting used to her being gone each day. Not too many exciting things happened, besides watching our cute girls grow and learn everyday. We were able to go and see Jake's sister and her husband be sealed to their adorable little boy that they adopted in March. It was so neat to see their whole family in temple. We feel so blessed we were able to be there with them on their special day. Well here are some pictures of the girls, thats what ya'll come to see anyways.
Junie getting bigger each day.
One of the many pictures of her starting to smile, which I guess her official day (where someone other than me saw her smile) was August 29th.
In September it had been 10 years since Jake and I started dating and we thought it would be fun to do so many of the things we have always loved to do together and with our kids. We headed to the park and and had a picnic and played catch and football with the girls. And then we headed to the driving range and hit balls. I was able to use my new clubs!
Annie eating at the park...
Molly showing us just how hot and bright the sun was, or maybe just how silly she is.
And June Bug showing of her big smile.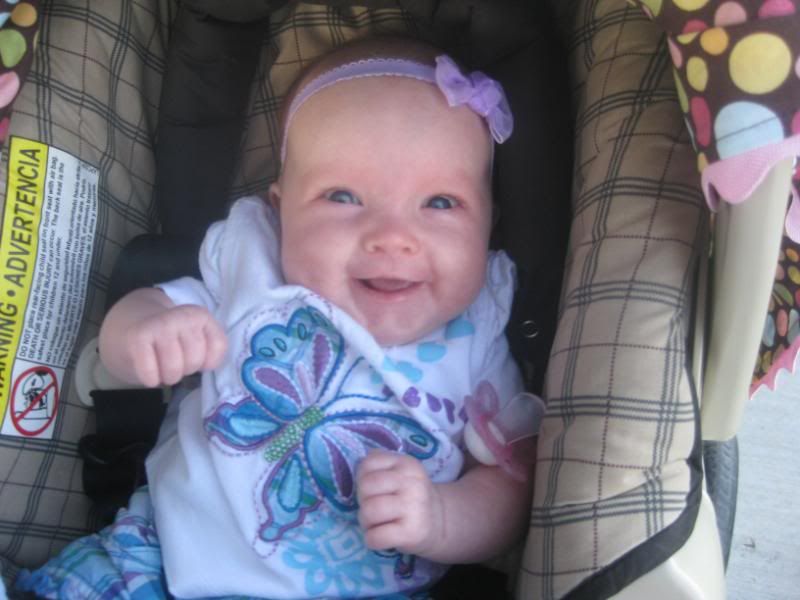 We went and had a cook out at the park again, just taking advantage of the beautiful weather. (yes we have only had snow for a couple of days and we all already miss summer)
June Lydia at 2 months. Look how big she is.
Molly was supposed to make her Hero out of a vegetable and write about them. When I asked who she wanted to do she said without any hesitation "my daddy". She told me what she wanted to write and I wrote it down for her and then she copied the whole thing all by herself. She is getting so good at writing and amazes me every day with how well she can read.
Here she is with her Vegetable Daddy Hero. (It was so much cuter than this when I sent it to school with her. It had another googly eye and a big button for its nose, but they fell off and her teacher lost them and thought these would be good things to replace them with....we didn't think that was such a great idea and Molly was a bit disappointed). It was still cute.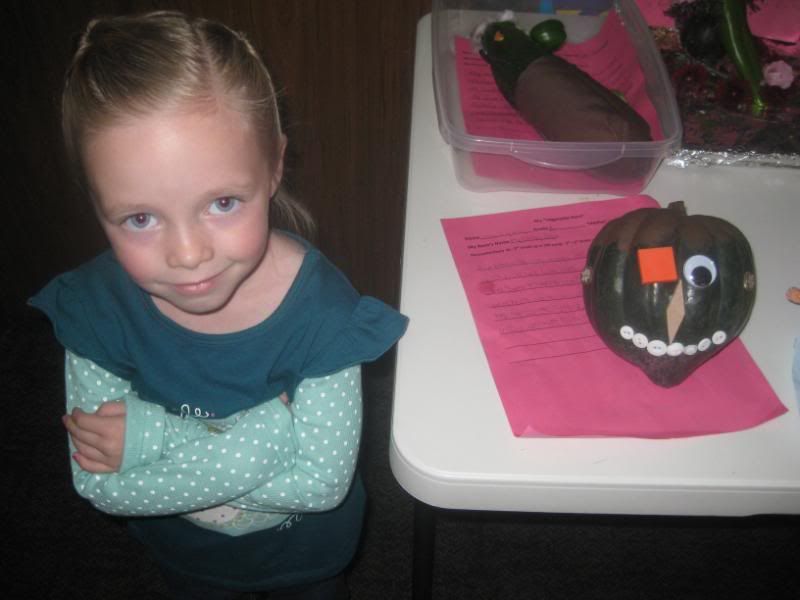 Here is what she wrote about her daddy.
My hero is my daddy. He helps me when I get hurt. I love him a lot. I don't like when he goes to work but it helps me. He plays with me. I think he is so strong he could pick up my house. He gets me snacks. He catches grasshoppers with me. He is the coolest daddy.
I know cute, right? I am pretty sure its safe to say that Jake was pretty proud. Well thats our September in a nutshell.