I don't have any pictures of us bringing in the new year...but we sure had fun doing so with Jake's family. I feel like January was so busy and flew by fast...I guess that is the reason I don't have many pictures from that month, but here are a few we have.
June...her hair is crazy and always in her face...even when I comb it it doesn't last long, but we still think she is pretty cute.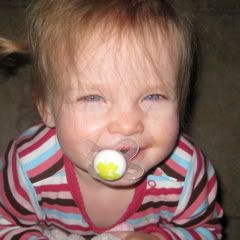 Jake and I celebrated our 8th Wedding Anniversary. Stacy was so nice and offered to watch the girls for us so we could get away for a night. We went out for dinner, to a movie and the next day we did a little bit of shopping, got Jake's phone fixed and then went and picked up the girls. On our way home we went to Target and to see my Grandparents. It was such a great weekend. Thanks Stacy so much for being such a super Aunt!
Man alive I love this guy so much. He is seriously the best! He is such a hard worker, patient (believe me he has to be to live with me), kind, funny, loving, smart and everything and more that I ever wanted in a husband. I am the luckiest girl in the world to have him and I can't wait to see what the next 8 years has in store for us.
June loving her sucker.
With the new year came a change in our church schedule. We now go at 1:00 p.m. and boy is it barfy. This is how much June loves it...this girl never falls asleep anywhere other than her bed and occasionally her car seat...this was 6:00p.m. after church.
June really is so funny and its so much fun seeing her personality show more and more all of the time. This is how I found her one day, putting on doll clothes all by herself.
Forgive the upside down picture I can't get it to turn around....anyways after Christmas we did a few puzzles around here. Jake mostly did this one because I would fall asleep so early, but we enjoy doing these together.
Annie is getting so good at doing puzzles and loves to do them over and over.
We had a really good month, I still can't believe how fast all of the time is going by and that in 3 short months we will have another baby...crazy. But we sure are excited.