So as I mentioned before we found out as June's teeth have been that they didn't have any enamel on them. We took her to Primary Children's Hospital and they told us that she has a form of AI and that she would need crowns on all of her teeth. Since we had to be in SLC for her surgery on April 2nd we decided to head up to Idaho for conference weekend and see the family. My mom made all of these big pillows and the kids had so much fun laying on them and jumping on and off of them.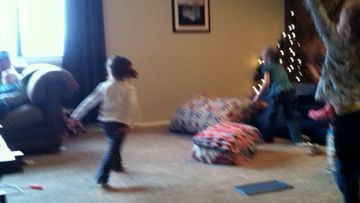 Sunday night we left Molly and Annie with my parents and headed to SLC so we could be to the hospital bright and early. June wasn't allowed to eat or drink anything after midnight so it was easier not to have the other kids there too. Here she is excited to be with Mom and Dad and on a big bed all by herself.
Here she is waiting to be called back...she totally knew something was going on.
In her hospital pajamas.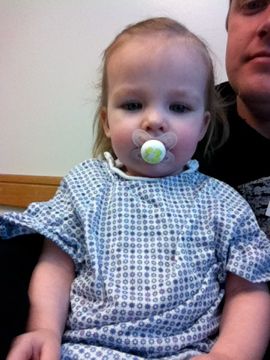 It was so sad handing her over to the doctors and to walk in afterwards and see her like this. She was so out of it, sad, and her lips were so swollen. She had to stay until she could stay awake for a bit and drink something and keep it down. Once we put the apple juice in her own cup she guzzled 2 cups in only a few minutes. She did so great, she never got sick even on the long drive home and wanted to eat right away even though they said she probably wouldn't. Her teeth look great and she is getting better each day to let us brush her teeth multiple times through out the day.