So before the baby came we had a very busy couple of weeks. We stayed busy and it sure made the time fly.
Annie's preschool had a charity fun run. The kids and their families got to come to the walking park and run laps..and then they each got to put $20 into a jar for a family that was in need. And then you could donate any extra you wanted...Molly donated some of her own money I was so proud of my girls. Here they are getting ready to get running.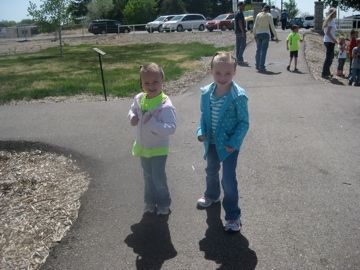 And they are off...
Molly in the lead...
But Annie ends up finishing first. She was so excited for this and had so much fun doing it.
The week before Clover was born I was lucky enough to go and help out on Molly's field trip. We went to the Jensen Nursery, the Library and to the park. We ate lunch and then they let the kids play for like 2 hours...it was crazy hot, but she had so much fun and was glad I was there. I sure love seeing my kids in different elements and see how they interact with other people.
Before every baby Jake and I always go out on one "last" date before we know we won't be able to for awhile. We went out the Friday night before Clover was born and it was so much fun. We went to the Hunger Games finally, and out to eat. I had one of the girls snap a picture of me before we headed out.
Jake kept asking me what I wanted for Mother's Day and I said help cleaning the house and a pedicure...and boy did they deliver. We spent all day Saturday cleaning the house and Jake and the girls did so much. And then when we were done I headed to get my first pedicure and it was heavenly. They also just spoiled me all day Sunday. Lots of cards and homemade gifts from the girls and delicious food and pampering from Jake...I am one loved girl. Here I am with my girls that I am so blessed to be a mom to.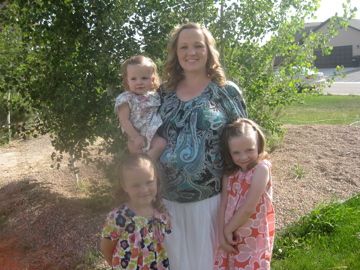 Saturday night after cleaning all day we cooked hotdogs and smores on the grill. I tried to get a picture of all the girls and their sticky faces...of course June would never look at me when I wanted her too...
Annie loving it
And silly Molly all sticky and a bit crazy.
I painted all the girls toenails pink and blue the day before the baby came since we didn't know if it was a boy or girl.
This was after baths so they all have crazy hair, but I needed a picture of June in the last moments of her being my baby...she has been such a good one and is making the transition into "big girl" very well.
And of course since I had the camera out the other girls wanted their pictures taken too and how could I resist these cute faces?